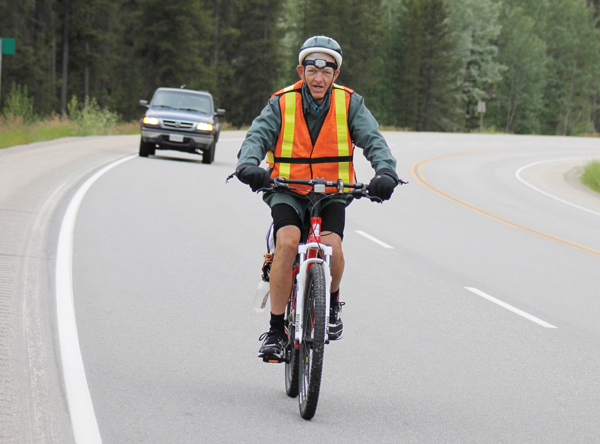 by LAURA KEIL
Some library patrons show their love by donating money, or books or time.
For Vernon Pawloske, showing his love is a much larger endeavour.
Two years ago the 72-year-old raised money for the library by cycling and hiking 200km from McBride to Adolphus Lake in Mt. Robson Park and back, which took him 21 hours.
On Monday, the wiry talkative Pawloske will launch a more ambitious plan: cycle more than 400km from his house east of McBride to the McBride library to the Jasper library, on to the Valemount library and then back to McBride.
And then he may then return to Valemount and go back to McBride, since he likes the sound of "550km."
"If I did anything ordinary and easy, I probably would not get much support," Pawloske told the Goat last year. "I am used to hard work all of my life and am tough."
In 2015, Pawloske raised more than $7,000 for the library, which needed to raise funds to move into a larger location on Main St.
The library has since secured the new space and plans to move in following renovations.
"The Library means a lot to me, and is an asset to McBride and is a very busy place," Pawloske told the Goat before his last trek.
Pawloske cancelled the McBride-Jasper trek last year after concerns from library members about his well-being. The McBride Library said they would rather not have their name attached to such a grueling trip.
But that isn't stopping Pawloske this year.
"I wanted to do something for them, and this is something I can do."
A friend offered him a racing bike, but Pawloske didn't like it. He prefers his heavier Opus 27-speed mountain bike.
The biggest challenge, he thinks, will be sitting on a bicycle seat for that long. He is bringing a wide seat and extra foam to help him stay comfortable.
Pawloske uses the Library regularly, and with help from staff and friends he's met there, he's learned to use computers, the internet and Facebook, his camera, and his first mobile phone.
"Nobody is going to tell me I can't do it," Pawloske told the Goat last year. "I cycle 75 km in a day, easy. I'm on the road all the time and I'm in good enough shape. It's on me, no one else."
Pawloske doesn't like it when people question his ability based on his age.
"The people my age; I don't have much in common with them," says Pawloske. "I don't want to be sitting around. I'm more comfortable with younger people."
Pawloske says he's aiming to leave around 2:30 AM Monday June 19th, and he's looking for a pilot car to follow him. If he can't find anyone he will have to carry his gear and water on his back which will be heavier.
He says pledges can be given to anyone on the library board or at the library.
— with Goat files