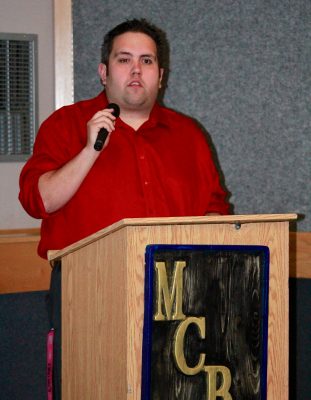 by EVAN MATTHEWS
For McBride parents, it is the same old song and dance with School District 57, but there may be some light at the end of the tunnel this time.
School District 57 (SD57) held a public meeting in McBride last week to discuss budgeting, the re-designed B.C. Curriculum, and school organization plans for next year.
SD57's funding allocation to McBride schools was likely the most interesting part of the meeting. Locals are unhappy with the provincial rural funding formula.
At the meeting was school district Board Chairperson Tim Bennett, Assistant Superintendent Nevio Rossi, Director of Finance Darleen Patterson, District Principal Cindy Heitman, trustee representatives, and of course McBride Principals Kairyn Russell-Janecke and Derrick Shaw.
McBride's funding
Using the 2016-17 budgets, the school district explained how it allocates funds to McBride schools. Most of the money is simply used to staff the schools, according to both principals.
The total allocation to McBride Secondary School in 2016-17 was $1,221,712, according to Principal Shaw, which equates to $13,407 per student.
SD57 doesn't confirm funds for the following 2017-18 school year until Sept. 30, 2017, though the early number planned for 2017-18 is $1,180,670, Shaw says.
McBride Centennial Elementary School's total allocation from SD57 totaled $838,906, which equates to $9,533 per student according to Principal Russell-Janecke.
The early budget estimate for 2017-18 is $762,033 Russell-Janecke says.
SD57 provides both schools additional allocations throughout the year including Aboriginal Education, Learning Innovations, and Student Support Services.
Both the $13,407 per student at the secondary school and $9,533 per student at the Centennial are above the district's average dollar amount per student, but McBride PAC Chair Karen Dube says it isn't a fair comparison.
Schools in the greater Prince George area have opportunity — like a bounty of class choices — at their fingertips, and while in no way is Dube saying those students shouldn't have those opportunities, rural educators have to stretch money out even further for equal opportunity.
$13,000 in McBride isn't the same as $13,000 in Prince George, she says.
Changing the funding formula
Parents asked SD57 if the rural funding formula were to change, how the process would happen and when.
SD57 representatives pointed to the recently re-elected MLA for Prince George-Valemount Shirley Bond, to advocate to the Ministry of Education on behalf of her constituents.
Bond — who was in attendance — stood up to address the issue.
Bond says she's heard voters and knows this is an important issue to them, and she promises to advocate for re-visiting the rural education funding formula on their behalf.
She also said it's too early to put timelines on amending the funding formula, as the final B.C. Provincial Election results haven't been released and at this point who will form the government remains up in the air.
All three parties have acknowledged the funding formula needs to change, and whomever forms government will work on this file for the people, Bond says.
New curriculum
SD57 used the new curriculum during the 2016-17 school year, but the district took time to explain the new curriculum to parents.
One major change to the curriculum is how and what the students will learn.
The main change, according to the district, is emphasizing teaching concepts and processes — how to access necessary information, for example — rather than memorization of content.
The curriculum places additional emphasis on Indigenous peoples' worldviews, as it's central to Canadian History; 30 per cent of SD57's student population identifies as having aboriginal ancestry, according to SD57.
Another minor change will be an influx in report cards going home to parents, as teachers now have to send a minimum of five report cards home with each student each school year, according to SD57.
In addition, the district has cut a number of Provincial exams, with the only exams now being English 12, Communications 12 or English First Peoples 12.
The McBride Parental Advisory Council (PAC) meets on May. 23.