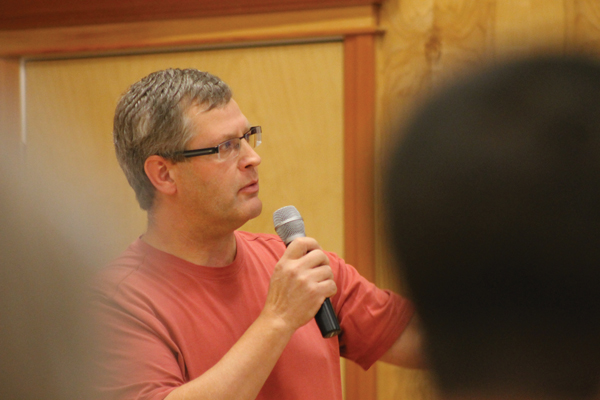 by EVAN MATTHEWS
The McBride Community Forest Corporation has finally filled its board of directors.
As of Jun. 15, Warren McLennen, a long-time Robson Valley resident was elected over four other people who put their names forward, according to Board Chairperson Joseph Rich.
The board is currently made up by chairperson Joe Rich, recently added Village Councillor Harold Edwards, Kevin Taphorn and Dutch Molendyk.
This marks the first time in roughly a full calendar year the MCFC has had a full board.
At its Jun. 13 meeting, McBride Village Council carried a motion to rescind Mayor Loranne Martin's appointment to the MCFC Board of Directors.
Council members expressed frustration with not having a schedule of MCFC meetings, that the organization has lost money over the last two years and had its cutting permit expire, and that people have lost confidence in the Mayor as representative.
The Village of McBride is the sole shareholder of the MCFC, and Mayor Martin was acting as the Village rep.
Chairperson Joe Rich agreed communication has been lacking between the shareholder on the MCFC, but not due to any one person's fault.
"It wasn't intentional, but the lack of communication was largely due to the board being so pre-occupied with getting the operations of MCFC back on track," says Rich.
"The board time simply did not take the time to keep the shareholder informed on a regular basis," he says, adding the board has taken steps to ensure the shareholder will be kept well informed of the operations of MCFC in the future.
"Mayor Martin's contributions will be missed, and Councilor Edwards will be, and has been, welcomed to the board," says Rich.
"Both people have attributes that benefit MCFC," he says.
At the Council meeting, Councillors Green and Hruby moved to appoint Coun. Edwards to the MCFC Board of Directors. Mayor Martin opposed Council rescinding her appointment, as well as she opposed Council's appointment of Coun. Edwards.
"It's a slap in the face to be removed from the MCFC Board given all the work and time I've spent on it," said Mayor Martin at the meeting.
"I will not support the resolution. The problems with MCFC fell onto my shoulders without expert opinion — it was not a mess created by the mayor.
"It's not just what we do, but the manner in which we do it," she said.
Joseph Rich — now the board's chair — and Randy McFarland took interim spots on the board in February 2016, while in August Sharon Reichert and Edee Tracey resigned from the board.
Shortly after, Mayor Martin and Dutch Molendyk were added.
The announcement of McLennan's appointment, and the swap of Mayor Martin and Councillor Edwards mean the MCFC has a full board of directors for the first time since June 2016.