by EVAN MATTHEWS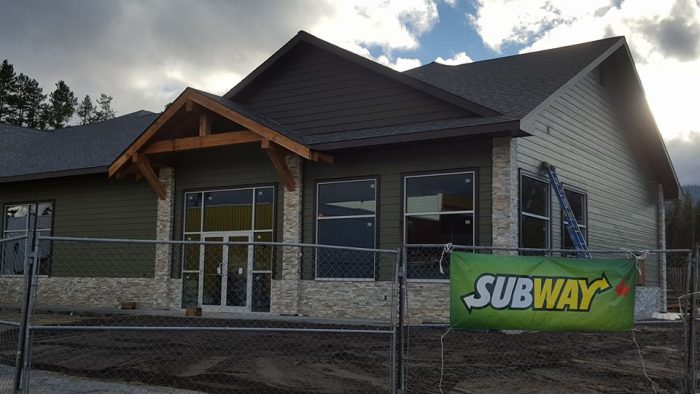 Though the weather seems to be warming, it could get cold again, and what happens with the weather will determine when exactly you can get your Tims' coffees and your SUBWAY sandwiches.
B.J. Park, owner of the Shell Station in Valemount, says the interior of the new building is mostly complete, but there are some finishing touches on the exterior left to be completed.
One of the final touches is the construction of an exterior wall, Park says, but when it's done is out of his hands.
"I have to wait for the spring time," says Park. "It depends on weather. If we have good weather, maybe we can complete the wall by the end of March."
A representative from i2i Advertising and Marketing — the ad agency in charge of the SUBWAY account for 25 years — says the SUBWAY is ready to move in as soon as the building is ready.
Subway is part of the Shell Gas build, and although SUBWAY will be ready to open April 1st, the opening date is dependent on the landlord's construction schedule, coupled with ground thaw to install services," the spokesperson says.
"We're trying to open for May long weekend," says Petromaxx's Blake Larsen, in charge of Tim's and Esso's construction
And just across the street, the last stages of construction are being completed at the new Esso and Tim Hortons.
"We're trying to open for May long weekend," says Blake Larsen, who is working with PetroMaxx Construction Services, and is in charge of the Esso and Tim Hortons project.
"That's the goal," he says.
Larsen echoed a lot of the same points as Park, saying whether or not the company meets its goal is fully dependent on weather.
PetroMaxx is looking to resume construction within a couple of weeks, he says.
Though the opening date for each respective location isn't set, developers are telling residents of Valemount to keep their eyes peeled, as the grand openings are just around the corner.