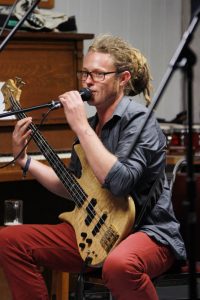 by LAURA KEIL
"There's nothing really cheery about this album," says Seth Macdonald, of Samson's Delilah.
That said, you'll probably still find yourself bobbing to its reggae grooves.
Local musicians Shara Gustafson and Seth Macdonald, also known as the hosts of the Robson Valley Music Festival, have teamed up with Australian musician Tim Bennett and Alberta drummer Dan Barton for their first album, Unfinished Humans.
They have a full summer of touring with 11 festivals and numerous shows in between, including a show at the Valemount Legion last Thursday.
Barton describes the tour as such: "Music I love, with people I love, in venues I love."
Barton, who produced half the album, says there's a beautiful message in every song.
The four-piece band, which includes guitar, bass guitar, vocals and drums has been practicing together since last summer. Gustafson describes their style as "Not really rock opera, but also not folk."
If you've heard them before, you'll know there's a reggae and world music feel underlying many of their songs.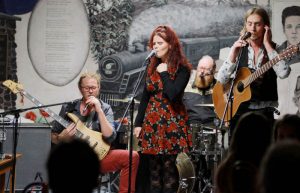 Macdonald says the title of the album comes from the idea that every person is always growing and is never "finished."
"Despite what we think, we're never 'done.'"
The songs on the album cover the gamut of human experiences, he says, with many telling other people's tragic stories.
He says there's a mix of old and new songs.
Gustafson and Macdonald, a husband-wife team, have been playing together for 18 years.
"I like the way our voices work together," Gustafson says. "We're on the same page creatively."
She says following the tour, they'll likely spend the winter doing house concerts and work more with a fiddle player.
Their album is available at the Dunster Store, Infinity and soon in McBride.