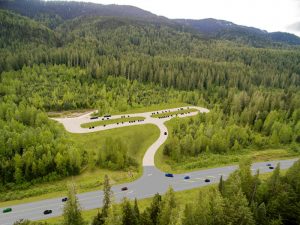 by GOAT STAFF
Local residents and visitors will have better highway access to the Ancient Forest/Chun T'oh Wudujut Park as the provincial government announced $1 million toward road improvements.
Prince George Valemount MLA Shirley Bond made the announcement, which follows the Province's decision to designate the world's only known temperate rainforest as a Class A provincial park.
Construction of designated turning lanes on Highway 16 will enhance safety and provide better access to this truly unique and majestic treasure, a government press release said. In 2015, more than 20,000 visitors came to the site to use the trails set amongst the towering trees, according to government figures.
"The designation of this new provincial park was the result of unprecedented cooperation and effort by the Lheidli First Nations, the Caeldonia Ramblers Hiking society and many passionate community volunteers and organizations including in McBride and the Robson Valley," said Bond. "These road improvements will complement our efforts to showcase some of the largest old growth cedars to the world and ensure that vehicle access is safer and more efficient."
Minister of Transportation and Infrastructure Todd Stone says these improvements to the intersection and parking facilities at the Ancient Forest will enhance visitors' experience.
"Ministry staff have taken great care to respect the environment during the work, making every effort to consider the unique environmental diversity of the area."
In addition to these road improvements, the Province says it is working with the federal government to consider this area for a UNESCO World Heritage Site nomination in recognition of the outstanding values of these ancient cedar stands.