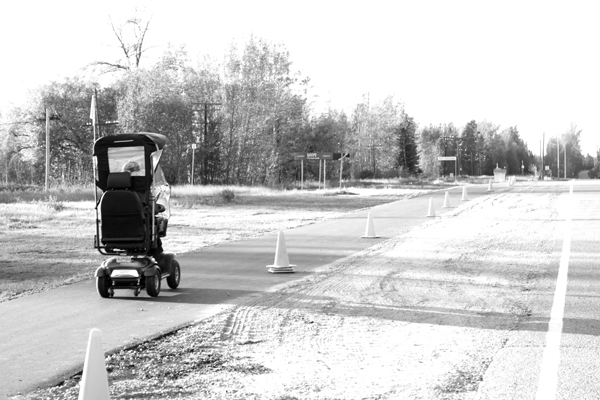 By Korie Marshall
Northern Health released its 5-year action plan last week, a framework for delivering health services to a rapidly growing senior population.
"We know that the seniors' population in northern BC is growing more rapidly in proportion to the rest of the province, which has profound implications for the delivery of health services in rural and remote areas," said Darryl Plecas, Parliamentary Secretary to the Minister of Health for Seniors, in a news release.
The plan says the proportion of seniors (aged 65 and older) is growing more rapidly in northern BC than in the rest of the province, and is expected to continue at an accelerated pace over the next 15 years. Two processes are contributing to this increase: more youth moving away from the north and older adults choosing to remain in the north as they age instead of retiring elsewhere. It is a relatively recent phenomenon for northern BC, a region that has historically been characterized by a younger population.
The plan outlines three areas of focus, including keeping seniors healthy in their communities, providing integrated primary and community care, and taking a rehabilitative approach in hospital and residential care settings. The release says Northern Health's focus for the operational plan will be on health promotion, prevention, and community support for healthy aging.
"I am pleased to see that the results of consultations we undertook in 2013/14 have led to the development of a comprehensive strategy that will ensure the provision of services to support healthy aging," says Charles Jago, Chair of Northern Health's Board of Directors, in the release. Consultations were held in communities across northern BC, with the process involving public sessions, focus groups and First Nations focus groups.
"We need to look at innovative ways to care for our aging population, and this action plan helps with that goal," said Dr. Nicole Ebert in the release. "We want people to be healthy and happy throughout their life, and in partnership with health professionals and communities we can help accomplish that goal."
Social connection and community involvement are pivotal to health and healthy aging, says Dr. Sandra Allison, Chief Medical Health Officer with Northern Health. That is why Northern Health wants to see how you stay connected as you age, and is offering a chance to win cash.
Northern Health is running a contest encouraging residents to submit photos that depict healthy aging for a chance to win weekly prizes, as well as a grand prize of $250. With a different theme each week, the contest aims to encourage people to show how their communities are inclusive, promote engagement for all ages, foster volunteerism and support strong relationships.
At the end of the contest, the photographs that best capture the theme of healthy aging and social connectedness will be turned into posters and materials for local health units.
Northern Health staff will also share information via the Northern Health Matters blog and social media channels about the health benefits of social inclusion; removing barriers that create social isolation; fostering intergenerational relationships; and aging with dignity, respect and purpose.
Find out the weekly themes and submit your photos at http://blog.northernhealth.ca/connect. All photos submitted by November 8, 2015 will be eligible for the grand prize.
In addition to the seniors' action plan, a strategy to address end of life and palliative care has also been developed by Northern Health with a focus on strengthening community based services and a draft dementia care strategy is in the works. These strategies will be used in conjunction with the seniors' action plan to address the needs of northern BC residents as they age, says the release.
For information about seniors' health services currently offered in northern B.C., visit www.northernhealth.ca. Find the full Action plan at : https://northernhealth.ca/Portals/0/About/Community_Accountability/documents/Healthy-Aging-in-The-North-Action-Plan-2015.pdf