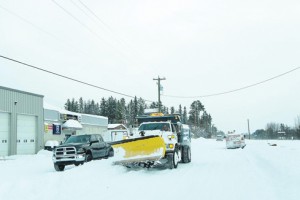 By Korie Marshall
Valemount's Public Works Committee met last week, Nov. 6th to discuss changes to the Village's snow removal policy.
The policy has been revised many times since the late 1980s, says Councillor Owen Torgerson who chaired the meeting. The meeting was a round table discussion with representatives from the RCMP, fire department, ambulance, highway maintenance contractor LDM, businesses and residents. Also at the meeting was Councillor Peter Reimer and staff members including Interim CAP Ken Weisner, Corporate Officer and Planner Andrew Young and Superintendant of Public Works Trevor Pelletier.
A representative from LDM noted their new brine system is working well at the Highway 5 and 5th Avenue intersection. It cost over $1 million for the plant, but the brine is cheaper to run and better than sand and/or salt, though they are still experimenting with when it's best to apply. He says it melts the snow and ice and then dries out, whereas calcium and magnesium used to make the road "slimy".
A concern for the BC Ambulance attendants is that 9th Ave between Highway 5 and the ambulance station entrance near Gorse Street can get blocked off by parked trucks, especially if the roads are bad or closed, says Jasmine Gasser. Woroshello pointed out that No Parking signs could help with that, but business owner John Peterson noted that street is often used for parking for events at the Community Hall. Gasser says it's only a problem when there is a big snowfall, and Pelletier noted the Village's traffic regulation bylaw says parking is prohibited on Village boulevards and right-of-ways for 48 hours after a snowfall of 5 cm or more. Infractions could mean a $150 fine, according to the Village's enforcement bylaw. Eugene Jamin says the ambulance service can be proactive by having attendants stay at the station when a bad storm is called for, as they did on occasion last year.
Rick Lalonde, Chief of the Volunteer Fire Department, says big storms don't happen that often, and anyone who has ideas about how to do things better should get out and help. He says Village staff is doing a good job.
"It all comes down to money – how much do you want to spend?" says Interim CAO Weisner. "Money and a bit of tolerance."
Tom Jamin said the most frustrating thing for residents is still the berms or windrows at the end of their driveways. Corporate Officer Young says as part of the age friendly survey, the Village is seeing that snow clearing and the windrow is a big concern especially for seniors. Marie Birkbeck says the new Better at Home program is planning to help seniors shovel their driveways, but it is dependent on volunteers.
Jamin suggests waiting to plow residential streets until the grader is available, which can drop the gate to keep from depositing snow in driveways. Pelletier says the grader gate can only hold so much snow, and it cannot deal with driveways that are close together, as many are. And depending on the weather, the snow could turn to ice before the grader can make it to all residential streets. He says they watch the weather and the forecast, and often get out plowing at midnight or 4 am, depending on when it starts and how hard it falls.
Staff noted the current budget for snow removal is $20,000, and that a one per cent tax increase would mean an extra $6000 for the Village. Residents noted it would likely take more than that to provide the service of removing windrows from all the driveway, but some argued the extra taxes would be worth it to residents, especially seniors and those with physical disabilities. It would save the hassle of dealing with the windrows, often laid down by the grader or plow after the driveway is shoveled, and it is also important for access for the ambulance if necessary.
"We all have to do the best we can," says Peterson. He says things are working well on 5th Ave, with businesses owners dealing with the snow as best they can, with a little help from the Village when there is too much at once.
Councillor Reimer noted another concern with snow removal by the plows. He says the plow can leave some snow which turns slick or icy, which is dangerous for walking, especially since we have few sidewalks in the village.
Weisner suggested the Village could pay a premium to have local private contractors available immediately.
The group also discussed the four priorities for snow clearing of streets listed in the current policy which became effective October 2014. The priorities don't mention parking lots or the airport. The airport is treated as a priority, both because of the Village's contract with CMH for its weekly charter flight and to be ready for emergencies. Dean Schneider says BC Ambulance assumes the airport is clear for possible patient air evacuations. The airport is 4,000 feet long, similar to the entire length of 5th Avenue, and they have to plow it much wider, as well as the access road sometimes if LDM hasn't gotten there yet. It's not something that can be done just as a plane is coming in; Pelletier says it can take up to two days to clear with Village equipment.
Reimer says Barriere spends $300,000 on a contract for snow clearing. Some residents noted they would like to see better numbers to know exactly how much is being spent on snow clearing, how things like equipment, staff time and overtime, maintenance, fuel and insurance are being accounted for. And with that information they'd like to see a survey put out to the community to see if people would be willing to pay more taxes for better service. The group agreed a proper reserve fund is important so that money can be saved up in light-snow years to better prepare for heavy snowfall events and years. They'd also like to see the airport and parking lots listed where they fit in the priorities in the policy. The committee's recommendations will be submitted to Council for review at an upcoming meeting.