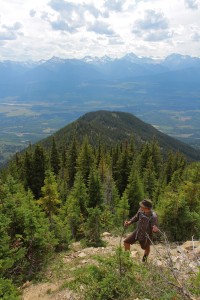 By: Laura Keil
It's a grueling hike with challenging terrain and some say it's a perfect tribute to a man who set his sights so high.
This weekend, Terry's Fox's siblings will commemorate the 35th anniversary of their late-brother's Marathon of Hope by climbing Mt. Terry Fox, just north of Valemount– and everyone is invited to join them. At least 30 people have registered for the hikes Sept 6th.
There are three hiking options: the first is to the look-out some 4km from the trailhead, with 2600ft elevation gain. The second is to the repeater tower some 7km from the trailhead with 5800 ft of elevation. And the final choices are to make it to the summit which is 9km away with 6500ft of elevation and/or the monument which is an additional 2000 feet of elevation gain which includes two major descents and ascents.
Terry's brother Darrell Fox told the Goat that they got the idea for the hikes from someone who had hiked the mountain on the Terry Fox Run weekend in the past.
"Terry was always focused on setting and accomplishing goals and there is some nice symbolism in climbing a mountain that bears Terry's name," Darrell said.
He says he and sister Judi have not hiked the mountain previously but brother Fred was on Mt Terry Fox a few years ago and would have reached the summit/plaque though he ran out of time.
This year, they plan to reach the summit and the monument.
Darrell has been to the monument before – via helicopter. That was back in 1981 for the dedication of the mountain with his parents and his siblings Judith and Fred.
"It will not be easy," he says. "Though running 42km/26 miles every day on an artificial leg is not easy either; we will all be looking to Terry for inspiration and strength."
Local organizer Patricia Thoni of the Yellowhead Outdoor Recreation Association says there will be a meet-and-greet with the Fox family and members of the public the night before at the Valemount Legion from 5pm to 6:30. The following morning, participants will set out on their respective hikes, with all hikers leaving at 6a.m. The summit and monument hikes take more than 12 hours return.
People can get involved by registering on the Mt Terry Fox Trek or they can donate to one of the participants if they are not planning to do the hike.
More info can be found here: http://www.terryfox.org/Mt_Terry_Fox_Trek.html
Terry Fox is a household name around the world, remembered for his journey across Canada on an artificial leg to raise money for cancer research. He'd run close to a marathon a day for 143 days, starting in St John's, Newfoundland, eventually stopping in Ontario when the cancer came back. He died in 1981, just one month short of his 23rd birthday, but the Terry Fox Foundation – and the many streets, schools, monuments and a mountain – are a reminder of his legacy.