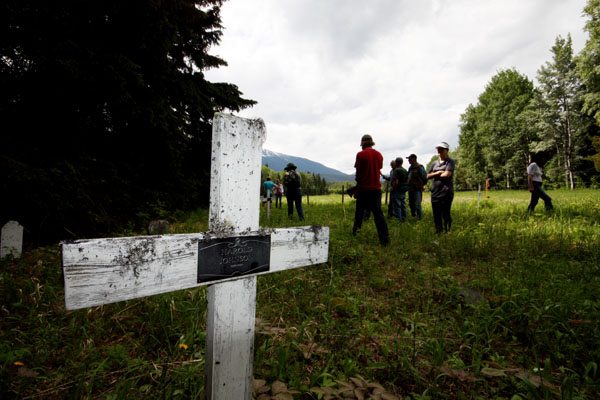 By Korie Marshall
It has been a long process, but a new cemetery in Tete Jaune is one step closer. Late last month, the Regional District board approved a public hearing to rezone a property on Carr Road to be used as a cemetery.
"We are pleased all is moving ahead," says Ainslie Jackman of the Tete Jaune Community Association, which spearheaded the plan to build a new cemetery.
The community has been without its own cemetery for the last 15 years or so. The old Tete Jaune cemetery was located on private land, and was closed when the new owners did not want it to continue being used. Many families like the Blackmans, the Brooks and the Duncans have been in Tete-Jaune for generations, and the remains of those who pass away are buried elsewhere, or their ashes have been kept safe in the hope that a local cemetery will be built.
The Community Services department of the Fraser-Fort George regional district has been working with a local steering committee and the Ministry of Forests, Lands and Natural Resource Operations since 2005 to find a suitable piece of land. The committee has been looking at 20 acres of land along Carr Road, less than 10 minutes away from the community hall. Carr Road used to be a vibrant part of Tete Jaune before the bridge over the Fraser River washed out. Access to the site is currently via Highway 16, just east of the junction with Highway 5.
A staff report to the board says the site was chosen because of the reduced impact on neighbouring parcel owners, lower development costs and suitable soils for cemetery use. The Regional District held a referendum in November 2012, and property owners voted in favour of establishing a cemetery service supported by property taxes within the community.
The application is to rezone a 1.36 hectare area of the parcel from Rural 5 (Ru5) to Public Development 1 (P1). The Regional District has a Crown grant offer for the proposed cemetery, and the Agricultural Land Commission approved excluding the property from the Agricultural Land Reserve this past April.
The Board approved first and second readings of the amendment at its July 23rd meeting, and has authorized a public hearing. Dannielle Alan, Director for Area H, says the hearing has been scheduled for the evening of August 25th, at the Tete Jaune Community Hall.
If the zoning amendment passes, the Regional District plans to proceed with subdividing the 1.36 hectare portion of the parcel from the rest of the lot and purchasing it from the Crown, says the staff report.