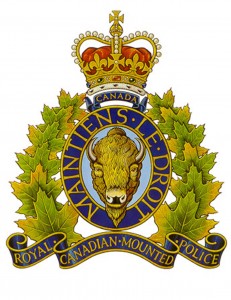 Submitted by Robson Valley RCMP
During the afternoon of August 3, Valemount RCMP were alerted to an attempted fraud at the Petro-Canada in Blue River involving an adult female trying to purchase $700 in lottery tickets with a stolen credit card. The suspect then took off in a blue Kia automobile and it was intercepted by several officers as it pulled into Valemount at the Tempo Gas Station. The female suspect was found in the vehicle along with an adult male driver. Both occupants were taken into custody and the vehicle was searched incidental to arrest, at which time stolen property, counterfeiting equipment and a significant quantity of methamphetamine was located. Both suspects were remanded in custody to Prince George Provincial Court the following day.
During the early morning of August 6, several unlocked vehicles in the 1300 block of 9th Avenue, in Valemount, were entered. Stolen from the vehicles were keys, garage door opener, medications, compact discs and money. RCMP reminds residents to lock their vehicle and to also call police immediately if they suspect any criminal activity taking place.
Around 8:00 A.M. on August 6, Valemount and McBride RCMP attended to the Overlander Falls Rest Area along Highway 16, in Mount Robson Provincial Park, after a report was received of a stolen vehicle broken down at this location. An adult male and female, both from Alberta, were taken into custody without incident. A search of the vehicle resulted in the discovered of other stolen property indicative that these two individuals had gone on a major crime spree. Both subjects were held in custody and remanded for court in Prince George the following day.
Coincidentally, a flatdeck trailer from Sylvan Lake, Alberta, was also discovered near this location. The trailer contained a Polaris UTV along with a brand new CAT loader. All of this property was stolen and investigation continues. Later in the day, McBride RCMP recovered a Dodge Ram pickup truck in the parking lot of the Sandman Hotel along Highway 16. The pickup was also from Sylvan Lake and it is suspected that it was associated with the other vehicle recoveries made at Mount Robson.
Also on August 6, another vehicle was broken into while the owner was hiking the Berg Lake trail at Mount Robson Provincial Park. A window of the vehicle was found smashed out allowing suspects to steal an iPad, sunglasses, a purse and various hand tools.
During the evening of August 6, Valemount RCMP responded to a report of a break and enter in progress, at a private residence in the 1400 block of 7th Avenue. A witness watched a male suspect in a dark hoody walking around in the back yard near a shed and in a car in the driveway. The male youth was taken into police custody for trespassing however, no charges were wished since the property representative keeping an eye on the residence only wanted the person off the property.
On the evening of August 7, the owner of a motor vehicle parked at Overlander Falls discovered his vehicle broken into after he returned from a hike. Missing from inside the vehicle were passports, a backpack, a laptop computer, tablet, and a wallet. There was no damage to the vehicle and unfortunately, the owner left the doors unlocked.
On August 8, Valemount RCMP attended to the Tempo Gas Station, on Karas Drive, where someone broke into the establishment by smashing the glass out from the front door. Suspects managed to steal a large quantity of cigarettes. This incident is still under investigation and anyone with information is asked to contact Cst. Jason Nash (250)566-4466 or Crime Stoppers at (800)222-8477 (TIPS).
After the recent rash of several break and enters along with thefts from vehicles, residents in the McBride and Valemount areas are strongly encouraged to immediately report any suspicious activity to police. It is also stressed that residents ensure their residences and vehicles are locked when practicable.