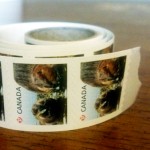 By: Korie Marshall
Canada Post is reducing its weekday hours for the Valemount post office, which also means the loss of one part-time job.
Starting on July 27th, new weekday hours will be 9 am to 5 pm, reduced by an hour in the mornings. Saturday hours will stay the same for now, 8:30 am to 12:30 pm, says Sherri Bargy, Local Area Manager for Canada Post.
A note in local residents' boxes recently said the Saturday hours will be adjusted slightly to 9 am to 1 pm, but Bargy says that change was not communicated to the union properly so Saturday hours will stay the same for now. The office will remain closed on Sundays.
Carolyn Elliott, vice-president of the BC and Yukon branch of the Canadian Postmasters and Assistants Association, says the union had received some unclear and conflicting information from Canada Post earlier this spring with regard to the Saturday closure. She says they did receive feedback from the community in favour of continuing Saturday hours of service. During consultation, the union was informed the corporation intended to stay open on Saturdays in
Valemount, but did not give their reasons for the decision.
When asked last week about the intended change in Saturday hours, Elliott said, "CPAA had not been notified of this and we are looking into this now."
Elliott says Canada Post has eliminated a part-time position covering four hours per week, which had been vacant. She says they've also changed the schedule of the remaining part-time employee, stretching her hours over six days (Monday through Saturday) rather than the previous five, with no increase to her weekly hours or pay. There is also one full-time employee at the Valemount office.
"With mail volumes declining," says the note from Bargy, "we need to make smart choices to maintain local service without becoming a burden on Canadian taxpayers. We stand by our mandate of serving Canadians while remaining profitable, understanding that our costs continue to rise while mail volumes decline."
The note says postal box customers will still have full access to their mail from 7:00 am to 9:00 pm through the postal box lobby, and there is no change to the range of postal services and products offered in Valemount.
Hours were also recently reduced for the McBride office, including closing on Saturday. The McBride office was previously open from 9:00 to 5:00 Monday to Friday, plus Saturday service. The office's Wednesday hours were extended slightly to 6:00 pm when the Saturday hours were removed.