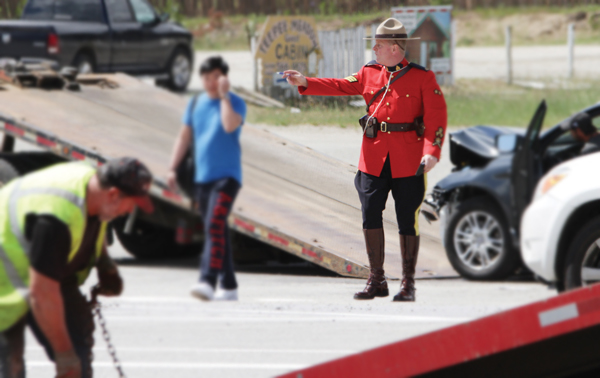 By: Laura Keil
Tourists travelling past Valemount on Canada Day may have gotten the impression that our RCMP is always decked out in the classic Red Serge. Shortly after arriving at the Canada Day celebrations at the Valemount Museum, Sgt. Darren Woroshelo and Const. Ryan Walker got a call to the traffic lights for a motor vehicle incident. Clad in red tunics, riding breeches ("banana pants" in RCMP slang) and Strathcona boots, they conducted the investigation as any other – only shielded from the sun by their wide-brim felt campaign hats.
Given the heat of the day, the uniform (or "costume" as one RCMP member's daughter likes to call it) is perhaps not the most practical – the Red Serge is not normally worn as working dress when an officer is on duty.
According to a 2007 Toronto Star article, the RCMP spent $58.4M in the previous 5 years or about $11.6M a year on average to outfit its members.
An RCMP officer wearing the Red Serge is an internationally recognized Canadian icon. The uniform dates back to 1873, though it has changed somewhat over the years.