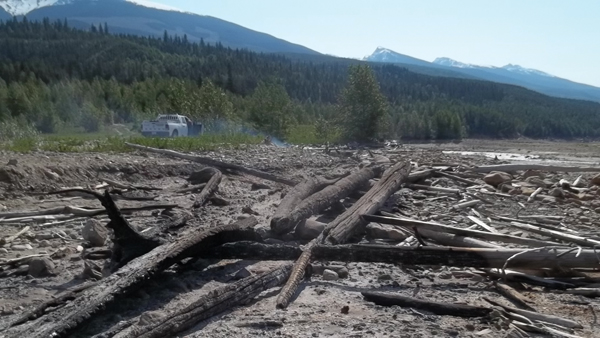 Valemount RCMP are investigating after what appears to have been a careless party fire, on the shores of Kinbasket Lake, was left abandoned and spread into nearby drift wood. "The fire was not very large or difficult to put out, but the potential for it to spread into nearby forests was very high." says Ray Mikolash, Forest Protection Officer for the Robson Valley Wildfire Protection Zone. "There is not currently a campfire ban in place, and it is great to see people getting outside and enjoying the lake, but there are responsibilities and obligations to using fire. People are obligated by law to ensure all campfires are completely extinguished before they leave the site."
On Wednesday May 27, Industrial crews driving to work on the East Canoe FSR saw and reported smoke coming from the shores of Kinbasket Lake at an abandoned mill site near the 12km sign. They reported the fire to local wildfire officials. Initial Attack crews extinguished the fire by 2:00pm the same day after RCMP attended the scene to document beer cans and cigarette packages left behind by the suspected partiers.
The Little Bobtail Fire near Prince George, B.C. spread rapidly to 25,000 hectares after starting on May 8th. Wildfire crews were able to achieve 100 percent containment just last week. RCMP have now confirmed that the Little Bobtail Fire was likely human caused and an investigation has been opened.
"Carelessness can cost everyone when it comes to wildfire," says Mikolash. "Not only do these fires cost money to suppress, but they take resources away from other potential wildfires. We had two confirmed lightning-caused fires in the Robson Valley that were still out of control on that same day. It is only May."
The Prince George Fire Centre has experienced much higher than normal fire conditions this May. Record-breaking dry weather has caused an early fire season. Abandoning a campfire is an offense that is punishable under provincial law with ticketing, fines, and/or recovery of costs and damages associated with fire suppression, property damage, and recovery of lost timber value to the province. Campfire bans may be implemented regionally or provincially if fire hazard increase to levels where risks of spread to adjacent forests are no longer considered acceptable.