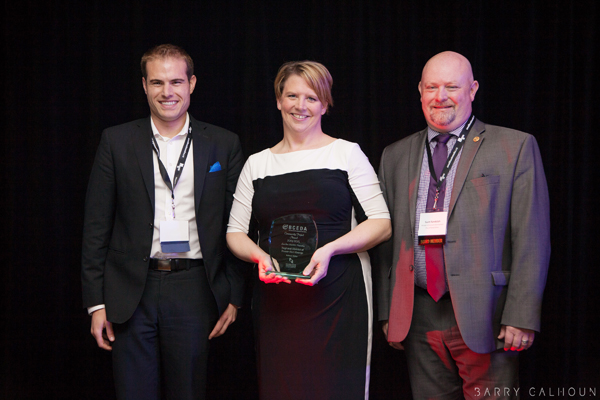 By: Korie Marshall
The marketing initiative designed to promote economic opportunities in the Robson Valley region has won an award from the BC Economic Development Association (BCEDA). The Discover Robson Valley Region program has been recognized as the best community project for an area with less than 20,000 population.
According to BCEDA, the award recognizes a community or regional partnership that works together in on-going economic development work and activities. It recognizes such things as strategic planning processes, marketing strategies, and community involvement. There were more than 20 entries in the category from all over BC.
The Robson Valley Region economic marketing program promotes opportunities to live, work, and invest in the Robson Valley region. The program features a combination of online (www.discoverrvr.ca) , video and printed marketing materials to spread the word about the many opportunities in the area. Through the program, McBride, Valemount and communities in between have come together to work collectively to pursue economic opportunities.
The development of the program stems from recommendations in the Canoe-Robson Valleys Economic Opportunities Plan, which highlights what opportunities the region is best suited for, such as tourism, agriculture, forestry, independent business people and active retirees. The Regional District worked with economic development consultants Millier Dickinson Blais who prepared the Opportunities Plan and Splash Media Group in developing the Economic Opportunities Plan and Marketing Strategy. The Plan is viewable at http://www.rdffg.bc.ca/uploads/reports/Economic-Development/RobsonCanoeEcOppPlan.pdf
The marketing program is funded by the Regional District of Fraser-Fort George, Village of McBride and Village of Valemount, along with grant funding from Northern Development Initiatives Trust and Omineca Beetle Action Coalition.
The BCEDA gave out eight awards at the association's annual conference in Richmond on April 28th. Two awards were given for each category of best marketing tool, best marketing initiative, and best community project; one in each category went to communities with less than 20,000 population and one with more than 20,000. The Chairman's Award is also presented annually to an individual, and the Stan Rogers Memorial Award is given annually to a public or private project.
"While effective economic development is a shared function of all levels of government, it is most effectively implemented at the local and regional level," said BCEDA President Scott Randolph in a release.
This marks the 25th year that BCEDA has presented these awards to association members working on community-based economic development projects in BC. BCEDA currently has over 450 members from communities throughout the province, and provides services that help them grow and expand new and existing businesses, and work towards strategic infrastructure investment, land use planning, and community enhancement.