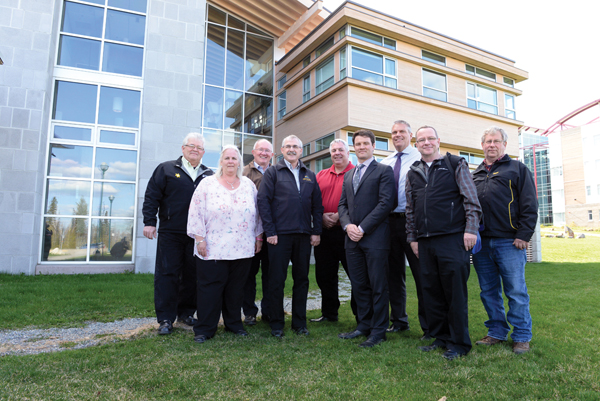 By: Korie Marshall
In the effort to attract and retain healthcare professionals, northern communities are working together with UNBC to enhance local educational experiences for students, including one from McBride. Last week the Northern Medical Programs Trust approved more than $200,000 in funding for student awards – the largest annual disbursement since the Trust first began providing student awards in 2006.
The Northern Medical Programs Trust is a partnership between UNBC and over 30 northern local governments, including Valemount, McBride and the Regional District of Fraser-Fort George as well as corporate members. Established in late 2002, the Trust aims to increase the number of health care professionals practicing in the north by supporting educational programs that provide students with exposure to northern communities and rural practice. The Trust offers financial support for students in the Northern Medical Program, the Nurse Practitioner program and now for nursing students at UNBC.
Members of the Trust are also supporting more funding for the Healthcare Traveling Roadshow which showcases health careers to high school students around the region; a new graduation prize for Northern Medical Program students pursuing residency in Northern BC; and creating a community engagement program to increase the connections between communities and visiting students. These new initiatives emerged from a review of the Trust this past year to coincide with the 10th anniversary of the Northern Medical Program at UNBC.
Robert van Adrichem, spokesperson for UNBC says students at the university visit the Robson Valley for clinical experiences to augment their education. Part of that is a weekend shadowing program for first- and second-year students that started a couple of years ago. Sonya Kruger, spokesperson for the Northern Medical Program, says seven students have come to the Robson Valley so far with this program, with another one or two more scheduled in the next month or so. And she says one student from McBride, Riley Hicks, is currently a third-year med student with the Northern Medical Program.
"I really enjoyed my time shadowing in the Mackenzie Emergency Department. It was a great way to get clinical exposure in a hospital setting, something we don't normally experience until our third year," said Julia Varghese, a second-year Northern Medical Program student, in a release from UNBC. "What I found really interesting was the aspect of rural medicine and how to manage patients in communities with more limited resources, such as how to manage a head trauma with the nearest CT scanner two hours away, something you don't have to really think about in a bigger centre. As I may end up practicing in a more rural area, this support from the Trust gave me a wonderful learning opportunity to build on as I continue my studies."
"It is a terrific program giving students the opportunity to train at a world class university and then work in the north," says Hollie Blanchette, Councillor for Valemount, who has been on the board since 2013 and was voted in as Treasurer at the recent annual general meeting.
"The primary goal of the Trust, since its founding, has been to provide students with an opportunity to experience first-hand what it is like to work and live in our Northern BC region," says president of the Trust John Massier, in the release. "In getting to know our communities and residents, we hope to inspire these future health care practitioners to consider our region as a viable and exciting place to establish their career."
Since its establishment in 2002, more than 1,350 donors have contributed to the Trust and the endowment is currently valued at over $9.5 million. To date, nearly $800,000 has been disbursed in nearly 450 student awards. In 2014, $100,000 was disbursed for Rural Medical Grants; $15,000 for Urban Electives; $35,000 for Nurse Practitioner Grants; $5000 for the Rising Star of Health Service Award; and $22,000 for Community Projects.