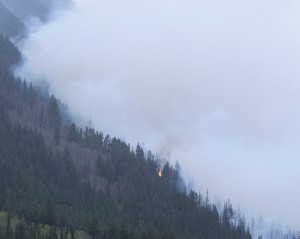 By: Korie Marshall
With the May long weekend upon us, the fire danger rating across most of the province is moderate or higher. Seventeen fires are currently burning across the province, including a 3500 hectare fire southwest of Prince George that has caused evacuation orders and alerts in two regional districts.
On Monday evening, the Regional Districts of Fraser-Fort George and Bulkley Nechako issued a combined release about evacuation orders and alerts in the districts. An aggressive wildfire is burning across both sides of the district border in the Normal Lake and Little Bobtail Lake areas. On Sunday evening, evacuation orders were issued for about 130 properties in the Norman Lake area and 65 properties around Little Bobtail Lake, Naltesby Lake and Eulatazella
Lake.
By midnight, Bulkley Nechako had put 774 more dwellings on alert in the Blackwater Road, Bobtail Forest Service Road, Bobtail Connector Forest Service Road, Sob Lake Road and the Cluculz Lake area. And by Monday morning, Fraser-fort George had issued evacuation alerts to 122 more properties around Bednesti Lake, Berman Lake and Dahl Lake Road.
The fire, discovered Saturday May 9th, and is currently listed as not contained or guarded on the Wildfire Management website. On Sunday there were 26 firefighters, two helicopters, five pieces of heavy equipment and support personnel on site. Warm, dry and windy conditions challenged fire suppression efforts says spokesperson Jillian Kelsh. On Monday morning, firefighters continued to establish guard around the south side of the fire's perimeter, and two more helicopters joined the effort as well as Structural Protection Units. Over 100 additional staff were on route. Smoke is visible from Highway 16 an surrounding communities including Prince George, Quesnel and Williams Lake.
Residents in alert areas are advised to take steps to immediately prepare themselves in the event that an evacuation is required and immediately take the following actions to help prevent damage to home, property and to prepare for personal safety: gather important papers and move valuables to alternate locations; make arrangements for pets to be moved to a safe location; make arrangements for livestock for a safe alternative location in case an evacuation order is issued; and prepare a 72-hour personal emergency kit for you and your family, including any
necessary medications.
Residents residing full time in a property within an Evacuation Order should check in with the following reception centres: Vanderhoof Arena at 340 Columbia St. East in Vanderhoof for residents of Bulkley-Nechako and the Regional District's office at 155 George Street in Prince George for those in Fraser-Fort George.
Questions about evacuation alerts and orders can be directed to: Regional District of Bulkley-Nechako at 250-692-3195 or 1-800-320-3339; and Regional District of Fraser-Fort George at 250-960-4475.
There are currently three other small fires (less than a hectare) burning around the Prince George area. A fire a week ago came dangerously close to residences near Mount Robson.
Further information about the status of fire can be found at www.bcwildfire.bc.ca