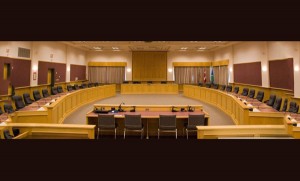 By: Korie Marshall
With both McBride and Valemount Councils now recording and broadcasting their meetings, the Regional District isn't yet following suit; though it could be in the cards, if residents express interest. But a previous representative of the Board doesn't think there is any interest.
"There has been some discussion in the past with regard to recording/uploading Regional Board meetings," said Karla Jensen, Corporate Officer for the Regional District of Fraser-Fort George in a recent response to the Goat. "But no direction has been provided by the Regional Board to staff to undertake the process for doing so." She says the Regional District currently doesn't have all the equipment necessary.
Gord Peters, manager of Valemount Community TV, thinks there might be some interest from the community in watching the monthly public meetings.
"And just like with our Council meetings, when there is a contentious issue, more people would watch," said Peters.
He says the station would be happy to find a weekly spot to broadcast the district meetings on VCTV. "I'm not sure people grasp how much control the District has over how the tax revenues get distributed here."
Dannielle Alan, Regional District Director for Area H, says the board discussed it earlier this year, and found that the cost was prohibitive, and the current interest level didn't justify the expense.
"We will be revisiting this issue regularly as circumstances change, but for now it is not on the agenda," said Alan.
McBride Mayor Loranne Martin says there are cameras already in the room for meetings, but she hasn't heard many requests to view the Regional District meetings.
"In the spirit of openness and transparency, I would be in favour of the Regional District meetings being broadcast to the residents that are affected by the decisions made at these meetings," said Martin.
McBride started recording and uploading Council meetings to YouTube in January, with the first meeting gathering 383 views so far. Volunteers use a video camera system from the Library to record the meetings.
VCTV has been uploading Council meetings to YouTube for over two years and the most recent meeting uploaded got 26 views in the first six days. The station has also been broadcasting meetings regularly three times a week for many years.
Many who watch local Council meetings online or on VCTV say they like the convenience of watching on their own schedule.
"I watch online and what I like is that I can go back if I didn't catch something right away," said Hope Norum about Valemount's meetings. She thinks it's a fantastic tool for those who can't attend the meetings.
"VCTV reaches many regional district homes, maybe more than in Valemount," says Rita Rewerts. "And we are governed by the Regional District, so most definitely they should be covered too," she says about the District board meetings.
"Open access is always good," says Sherry Wiltsie. "Not everyone can get out to meetings."
Tanya Jaynes Rich says she loves being able to watch McBride Council meetings online, and would love to have access to the Regional District meetings too.
Ken Starchuck, who was the Director for Area H for nine years, says the meetings are pretty boring, and often quite long.
"Not sure how many people out there want to give up that much of their time to watch much of what has little or no relevancy to their day to day lives." Starchuck also points out that anyone can call staff the next day and ask what happened with any particular issue, or check the minutes of the meeting the following month.
"None of the Prince George media felt it was important enough to record the board meetings for that simple reason that much of the issues discussed had nothing to do with the residents of PG," said Starchuck.
If residents are interested in seeing Regional District board meeting broadcast, Jensen says, "Speaking to local representatives or submitting a letter to the Board would likely be the best options."