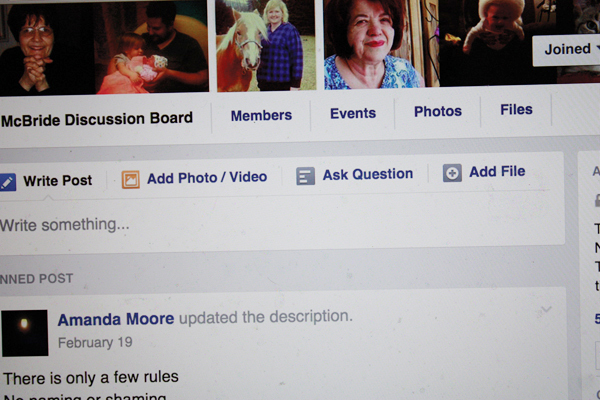 By: Frank Green
This past February, former-mayor Mike Frazier criticized the local government on facebook. A village rep had failed to attend a meeting, and councillors weren't answering his emails, he wrote. His wife Astrid Frazier re-posted his comments on the McBride Discussion Board, a facebook discussion group. Several people responded sympathetically, and then Leonard McCarty commented.
"Chicken Little….," wrote McCarty, who owns a local mill.
Businesswoman Carol Hammar responded to McCarty several posts later with her own bird allegory—for denial, rather than neuroticism.
"Ostrich?"
She added a smiley face.
The McBride Discussion Board is a civilized place—for an internet forum. There are no personal attacks on the Board, though that's only because of the dogged censorship by the group's administrators. The rules forbid "naming and shaming," and require that all members "be treated with courtesy and respect." (Neither of the two admins, Amanda Moore and Fran Chiupka, would discuss the group on the record).
But in spite of the rules, some still feel the group enables hostility and contributes to the toxic atmosphere in the village. People post things they wouldn't say to someone's face. And conflicting posts attract duelling "likes," dividing people with all the clarity of a glass ballot box.
A week before Frazier's post on the council's unresponsiveness, Councillor Edee Tracy published a different take onto the Board. She wrote that "certain individuals" were sending her harassing emails and she said she wasn't going to answer them.
"This lack of RESPECT for our community is not acceptable," she wrote.
A chorus of commenters agreed. Sheila Anderson wrote "Stay Strong Girl!!" She added a meme of Grumpy, from Snow White and the Seven Dwarfs, with the words: "you ever want to just grab someone and say, WTF is wrong with you??!!"
The meme was fun and punchy and, above all, cartoonish. It was also openly cursing at some people in McBride, internet-style.
In a facebook message, however, Anderson denied that the meme expressed her own feelings towards the councillor's critics. She said she meant it to represent how Tracy may have been feeling, adding that she wasn't speaking on the councillor's behalf.
In an interview, Tracy emphasized that she wasn't very familiar with the Board, and said she was cautious in her dealings on it.
"Being new to council and the social media I feel it is in the best interest of our community to be aware, take notes and go through proper channels before reacting," she wrote in an email.
Nearly 90 percent of people think people are less polite over social media, and more than 80 percent say they've had disagreements on internet forums that remain unresolved, according to a study from 2013.
"Some of the stuff I read on there, you think, 'good lord!'" said Mabel Moore, an administrator for the McBride Buy, Sell, or Give facebook group. "It's almost like talking behind your back, though you can read it."
And people are eating it up. The Board's added 17 new members over the past few weeks, and now has 571 in total, including about half a dozen who left the group only to ask to come back again. 586 people live in the Village of McBride, according to the most recent census data. (Some members of the group live in the region, or lived in it at one point and have moved away).
Mabel Moore's daughter-in-law Amanda Moore created the Discussion Board two years ago partly because the village needed a separate place for the off-topic discussions that kept cropping up on Buy, Sell, or Give.
But the antagonistic thousand-word threads are more recent, dating from around the last election. There are now almost weekly posts calling for less negativity, but even those are fraught. Some see them as just a sneaky way of criticizing the people criticizing the new council.
So when Karen Taks, a spiritual life coach who used to live in McBride, posted a waterfall of positive thinking on the Board one afternoon last month, it was still only matter of time before the subject shifted.
"We work and grow together as one," Taks posted. "This is powerful and opens the door to positive change, prosperity, growth, conflict resolution, peace, love and unity."
"When we become divided as individuals we become divided as a whole," she added.
The rebuttals arrived by early evening: "Ignoring the issues will not make them go away," commented Astrid Frazier.
The Board has been so controversial that it's spawning more facebook groups. Sheila Anderson, who posted the meme with Grumpy, started Hell Yeah McBride, a group to say how great McBride is, and nothing else. Hell Yeah wasn't meant to be a counterpoint to the Board, Anderson said, and insisted it was a coincidence that she created it at a time when the Board was an especially unfriendly place.
And Councillor Sharon Reichert started her own group earlier this month because she felt her posts were getting censored unfairly. Unlike her colleagues in office, Reichert's been willing to duke it out on the Board's threads.
"If they don't have the balls to talk to me in person, they're more than welcome to talk to me on facebook," Reichert said, who noted that there are some people she argues with on the Board who lower their heads and walk past her if they meet in person. "Maybe they have low self-esteem."
And Reichert's bullish on the good the group does, especially when it comes to crowdsourcing knowledge on escaped dogs.
"Do you know how many people have been reunited with their pets?"