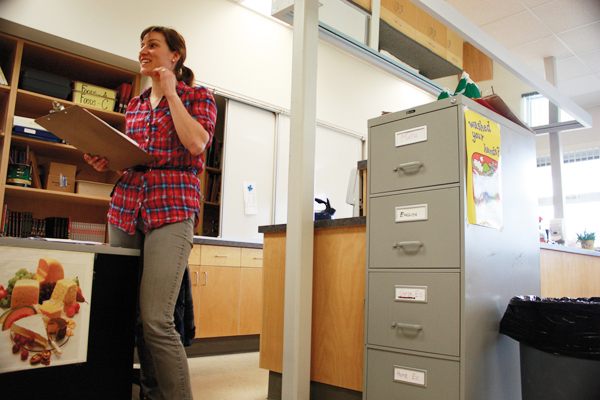 By: Frank Green
There are about a dozen students in one of the English classes at Valemount Secondary. They recently studied Of Mice and Men, which some of them read through faster than they had to because they liked the story of small, quick George, and slow, tragic Lenny. There's something unusual about their class, though it would be invisible to an outsider. There's a single Grade 11 student in the class, who's there taking English 11, while their classmates are all taking English 12.
This sort of arrangement is a fact of life at many small schools. Schools get funded per student, and classes with just two or three kids can push a school into the red. So they get combined.
"It's becoming more of a reality in rural British Columbia," said Linda Darling, professor of rural teacher education at the University of British Columbia.
There are pros and cons to these "multi-grade classrooms," but the argument is moot. Without them, there would be no class at all – Valemount no longer has enough kids to teach them any other way.
"We can't afford to not have multi-grade classes," said Principal Dan Kenkel, whose school has 73 students and eight teachers – including Kenkel.
But while the need is clear, there are some surprising advantages for students. One advantage to the arrangement is there are built-in tutors – if a student struggles, some of their seatmates have already taken the class, and research shows those older students benefit from the teaching experience. There's also evidence that combined classes can give kids better social skills and decrease bullying.
"People seem indifferent about age difference here," said Emily Vostrel, a new student at Valemount who had been in Penticton at a huge school. "Back in Penticton, there was no way a Grade 12 (student) would be seen with a Grade 9 (student)."
Combining classes can also have the benefit of smoothing the huge variations in the makeup of the kids in each grade. That makeup averages out in bigger schools, which tend to end up with around the same number of, say, party animals and teacher's pets each year. That's not the case in Valemount. For instance, the class of 2016 (this year's Grade 11 class) only has half a dozen kids, and teachers and students said the group on the whole is less academically inclined.
"You get kind of a personality of the grade level that comes through," Principal Kenkel said. "Sometimes you can have a cohort of strength."
"And the opposite is also true," he added.
When there's a big difference between the grades, segregating students by grade may harden that difference. In other words, classmates can be destiny. Nilesh Anghnoo took French last semester in a class with just three other students, who were less interested in learning the language. He said it would have been different for the uninterested kids – and him – if there'd been other students keen to do the work.
"They'd be heavily influenced to try harder," Anghnoo said, "because everyone around them is trying to learn."
There's no segregation by grade within classes like the one that read Of Mice and Men. All the kids read the same books and generally discuss the same things in class. (The starkest difference is on grading assignments – there are higher expectations for the older kids). But Kenkel said students are subtly grouped in the class according to their ability, and that can cross grades.
"You get a lot of kids at different levels working together. A strong kid in Grade 9 English, for instance, can be working on similar things to a weaker kid in Grade 10."
But when there isn't overlap – when a Grade 9 student who is less successful academically is in the same class with a more successful one in Grade 10 – the class may inevitably be too fast or too slow for some students.
"Maybe the Grade 12s don't have all the opportunities to extend themselves because we've got to drag up the bottom," Kenkel said, as was the case with the multi-grade theatre course.
Valemount's students are in multi-grade classes for French, English, Theatre, Phys. Ed, and Gardening, among others – and there is no evidence that kids in multi-grade classes do any better or worse in school than those in single
grade ones.
Teachers, however, may have a harder time. There are so few teachers at Valemount Secondary that they already have a hodgepodge of classes to prep for – some teach everything from math to outdoor education. Their jobs get even harder when some of those classes are multi-grade, because each grade within the class is really a separate class for which they need to prep. That's extra work they do outside of classroom hours, which is mostly unregulated by their contracts.
"You get here at 7:30 in the morning and you leave at 7:30 at night," said science and math teacher Karrie Iselmoe. She had six different classes to teach within four teaching blocks last semester. "And you take work home with you."
That's not to say that classes are combined willy-nilly. Iselmoe said she fights to keep the different levels in math and science separate, and they almost always are. Unlike subjects like English or gardening, little makes sense in math or science without understanding even the previous week's lessons, and that makes it difficult to combine them. But if the school continues to shrink, it may be forced to.
"Sometimes the problems can't be solved," said Tina Cousins, president of the Prince George District Teachers' Association. "The bottom line is money," she added. "Now schools are funded by the number of kids. If you have fewer kids you have fewer opportunities."
But some parents stand by Valemount Secondary. Penny Courtoreille co-chairs the school's Parent Advisory Council, and she made clear that schools were small when her family arrived in the valley, and a small school isn't about to drive them away now.
"We're homesteaders here. We have a different perspective," Courtoreille said. "Our kids know each other. Lots of them are cousins," she added. "They wouldn't care if they're in the same (class). Who cares, really? At least our family doesn't."