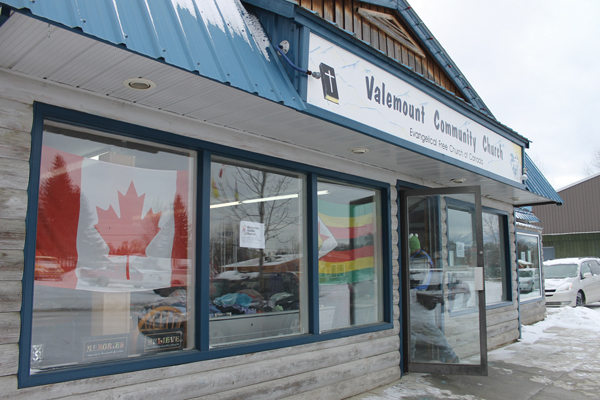 By: Korie Marshall
The Valemount Community Church will be able to stay on 5th Avenue in Valemount, at least for three more years.
The Community Church has been renting the property at 1255 5th Avenue since 2012. The property is zoned Central Commercial (C1) which does not allow for church use, but a one-year temporary use permit was offered. That permit expired in late 2013. Property owners Peter and Patricia Reimer have not asked for any tax exemption for the property, but have pointed out that many other municipalities allow church and religious assembly uses in their downtown commercial zones.
A public hearing for the temporary use permit was held before the regular Council meeting on Jan. 27th. No written submissions were received, and only one resident spoke to the issue. Paul Johnson says he wants to see the downtown buildings being used, and he thinks it is valuable to have the Church where it is. Johnson is also a member of the Advisory Planning Commission, which recommended in September that the Church be offered another temporary use permit, but that religious assembly not be permitted in the downtown core on a permanent basis.
First and second readings of a zoning bylaw amendment to better distinguish which assembly uses are permitted in the Village's central commercial zone was deferred by Council in early January, pending additional information from staff. One of the property owners, Peter Reimer, is now a Councillor for the Village of Valemount.
During the meeting in early January, Councillor Reimer said he had a lot of problems with the way the zoning amendment was written. He says the issue is not as simple as replacing the definition of "church" with a definition of "religious assembly", and the new way it is written doesn't serve to clarify anything.
"The bylaw does define what public assembly is, but I think in doing so, we've defined it in a way that is now discriminatory," said Reimer. "Part of the definition of public assembly includes cultural and education, and for many people, culture and education are a part of religious activity." "One of the things we talked about in the election is our tolerance. I think we need to look at this whole thing a little more carefully," said Reimer.
Council approved the three-year temporary use permit at the regular Council meeting on Jan. 27th. Corporate Officer Andrew Young confirmed for Mayor Jeannette Townsend that the property could be rezoned, but this would be the maximum for a temporary use permit.
The Community Church will be hosting a free movie night every Friday until early spring, starting on Feb. 6th. The Church also opened its doors to the Crafters Guild and other organizations during Valemount's annual Late Night Shopping event and other days leading up to Christmas. The Church has also hosted youth open-mic and other special events throughout the past two years.