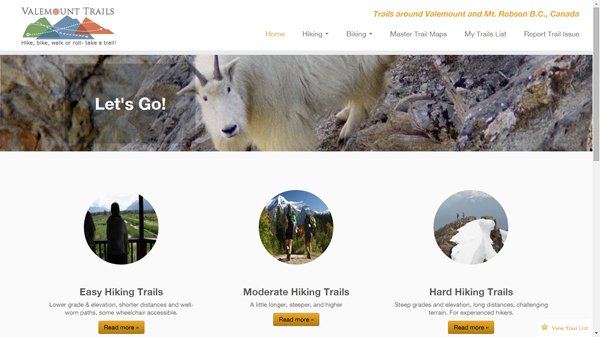 By: Laura Keil
After a year of work, Valemounttrails.com is finally public. The website gives an overview of approx. 20 trails in the Valemount and Mt. Robson area, including GPS tracks, detailed maps, elevation info, user reviews and more.
I pitched the site to Tourism Valemount last year. The committee understood my vision and invested in the project.
The site is intended to improve both the safety and usability of local trails. As we all know, a trail considered easy by one person may be hard to another. A year and a half ago, I took my brother-in-law and sister-in-law and their three children ages 6-13 to the McKirdy cabin. I told them it was a medium-length hike with awesome views at the top. Well, it was a little steeper and much farther than they had imagined. My enthusiasm for the trail overshadowed the actual logistics – 8km roundtrip and 750m in elevation to the meadows.
I wasn't the only one to have made this mistake. In the last couple years, several tourists have written letters to local rec groups complaining that their trail was hard to follow or not the right difficulty.
While it's still important to use common sense and be prepared, the website will help ensure tourists – as well as newbie locals – get a good overview before setting out. The site also allows for feedback. If you discover problems on the trail you can report them. And you can share you experiences on the site through social media!
The site is mostly geared to hiking at the moment, but contains some biking trails as well. More bike trails will be added as the new mountain bike trail system is developed.
Check out the site here:
www.valemounttrails.com