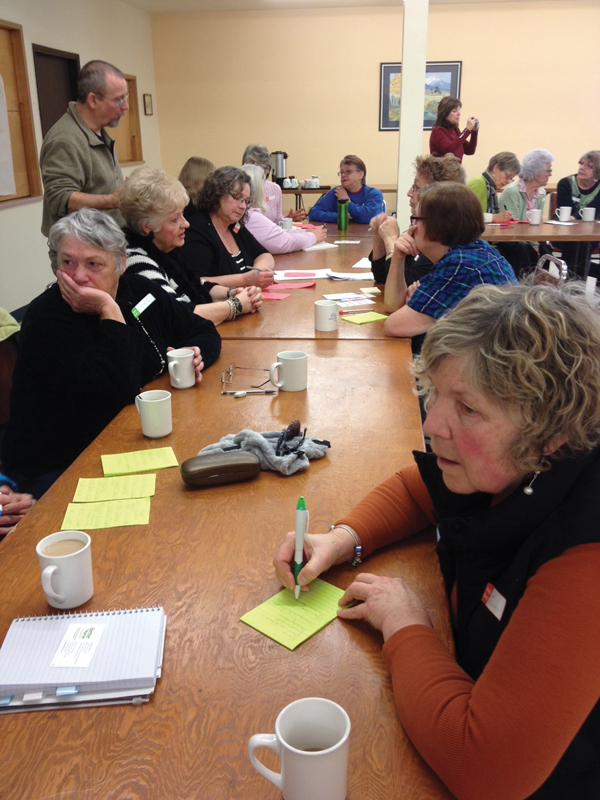 By: Korie Marshall
The Robson and Canoe valley areas will be part of a home-grown pilot program to help seniors stay in their homes longer.
Gathered together by Marion Farquharson, about 25 people from Valemount, Tete Jaune, Dunster and McBride met at the Golden Years Lodge on Monday, Jan. 12th to help design a new pilot project for rural areas.
Better At Home is a program that provides non-medical support for seniors to age with dignity and to stay in their homes longer. It is coordinated by the United Way and works with local volunteers and paid staff from local non-profit societies to deliver services. It is at work in 61 communities in BC, including Prince George and Kamloops, but most are large urban areas, says Debbie Sharp, Project Coordinator for Better at Home. Urban communities can pick any of seven services, depending on what is needed and already available in the area, like friendly visiting, yard work, light home repair, transportation and appointments, snow shoveling, housekeeping and grocery shopping. But the pilot program for rural and remote communities could be different; it is all up to the community.
"Every community is different – some communities have things like snow angel programs and inexpensive housekeeping services," said Sharp at the meeting. "The Better at Home program is there to fill in the gaps."
The program, funded by the provincial government, has more money this year for a pilot program to see how services can best be delivered to seniors living in rural and remote communities. Along with Nakusp, Invermere, Fraser Lake and Pender Island, Valemount was chosen for the pilot because it met a number of criteria: it is isolated, deals with severe weather issues, has a high proportion of seniors and few services for them. The community also has a high interest in senior's issues – Sharp says the turnout for Monday's meeting here was the best she's seen in any small community.
The meeting on Monday was to get people together to come up with ideas about the strengths and assets in the community as well as ideas on what is most needed. One decision that was made is that this program won't be just for Valemount, it will cover the entire Robson and Canoe Valley areas, though it will likely have sub-groups working out of smaller areas.
Sharp told the group there will be financial resources available for at least two years, though it's not determined yet how much. She says the funding is never enough, but the plan is to build a program that looks at needs, and looks at how to compensate for the work, and not burn out volunteers. The plan is to not damage existing programs, and to look for "cumulative benefits."
Peter Doukakis, Acting Executive Director for the Robson Valley Support Society was part of the group on Monday. He said they used to do a lot of home support, but at one point the funding from Northern Health was drastically cut back. They do however offer a handyman program in both Valemount and McBride, though it seems many people don't know about it, as it is under-used. That is one of the big issues identified by the group – knowing what is available, and how to access it.
Because she likes to focus on the positive first, Sharp had the group split out to brainstorm and list the strengths and assets we already have in the valley. Folks listed services like the clinic and hospital, dentists, vets, massage therapists, hair dressers, the libraries and arenas, senior's lodges and clubs like the Old Age Pensioners Associations. Meals on Wheels, the Health Bus, the community bus, the taxi service, churches, pharmacy, walking trails, food banks and grocery stores, community gardens, and portable services like the mammogram bus and the hearing test van were all listed, as well as many more.
"Watching people remind themselves just how much their communities have on offer for seniors was lovely," said Sharp, and even many participants were surprised to see everything listed and hear what is available.
Next Sharp had the group list things that are needed in our communities. More recreational programs, addressing gaps in the services, health and elder abuse education, support for volunteers to keep them from burning out, help with home safety, accessibility and maintenance, help with cleaning and cooking, transportation and financial issues were just some of the issues listed. Many good ideas were suggested as well, like programs to have seniors read with young school kids, and ideas for alternative mobility like renting golf carts to get around the villages in the summer.
At the end, Sharp had the group identify the top three needs. Top of pretty much everyone's list was information, including coordinating and communicating the services that are available now. The group agreed that second on the list is addressing loneliness and social isolation, and third is transportation.
The next step is for a working group to get together with Sharp on Wednesday morning to start working out the "nuts and bolts" of the local program. Then Sharp says she'll be back a couple of times and will help with submitting the request for funding, which will be available starting April 1st.
"The full program might not be ready by then," says Sharp, "but we can get started."
So what is the definition of a senior? That might be up to us as well, but if you look at the 2011 Stats Canada numbers, a senior is anyone 65 and older. In Valemount, 160 of our 1000 or so residents were seniors, and 95 of McBride's 580 or so were. That's about 16 per cent, whereas the BC average is 15, says Sharp. Some residents think it may be even higher, if you consider the people that live outside of the village boundaries.
Sharp says the positive response from people all along the Valley has been "spectacular."