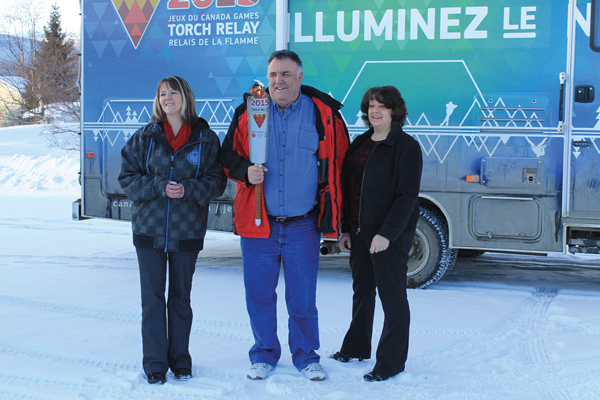 By: Korie Marshall
McBride and the entire Robson Valley – from the Ancient Forest to Mt Robson, including Valemount – will be featured at the Canada Winter Games in Prince George in February.
The McBride and District Chamber of Commerce together with the Village of McBride and the Regional District of Fraser-Fort George are putting together a package to promote the region. Tanya Rich of the Chamber is organizing the event, aimed at getting the word out to all of Canada about all the great things you can do here. She's looking for photo submissions from residents and organizations to build the display, as well as volunteers to man the booth, and help tell the rest of Canada that we are a destination they want to come to.
The 2015 Canada Winter Games runs from Feb 16th to March 1st in Prince George. One venue throughout the Games will be a mobile building parked at the site, featuring participating Northern BC communities. There will be six screens throughout the venue showing photos and information about all the participating communities and each will be featured for three days. The Robson Valley got one of the best slots, Rich says – Feb. 20th, 21st and 22nd, the only full weekend slot offered. They will have a 10 x 10-foot booth for those three days, with a large 7×8-foot picture backdrop they'll be able to bring back to the valley to use at other events.
Richs says she is working with Chris Dolbec, marketing coordinator for Discover Robson Valley Region. Dolbec plans to be there for the full three days, but Rich says she is hoping to have at least two more volunteers at any given time. They are looking for people to represent both winter and summer activities in the area. The booth will be open from noon to about 10:00 pm each day.
The Village of Valemount and the Valemount Chamber of Commerce aren't participating directly, but Rich says anyone from Valemount and any local organization is more than welcome to join or submit photos. Jen Robinson, marketing manager for Tourism Valemount, says they are not participating in the showcase directly because it was not in their budget.
Rich says it is all about trying to promote visitors to our valley. "It's unfortunate how little time we have to pull this together, but I've been astounded at how well everyone is pulling together, and the donations we are getting."
"We're looking for people who are really excited about the community and really want to share the area. If you've got a wide knowledge, that would be great too, because we want to promote everybody," says Rich. "I'm really excited that we have a chance to participate in this; it is something that almost passed us by."
Rich says there is also a promotion coming out before the Games start called The Great Northern Road Trip. It will include social media contests, and Rich says they've put together two impressive prize packages for the promotion, one of summer and one of winter excursions.
"I think that will be really big for our communities. It is all about bringing people here, and instead of just driving through, we want people to stop and enjoy – make the valley their destination," says Rich. "There are so many interesting and fun things to do!"
The deadline for photo submissions is Jan 19th.