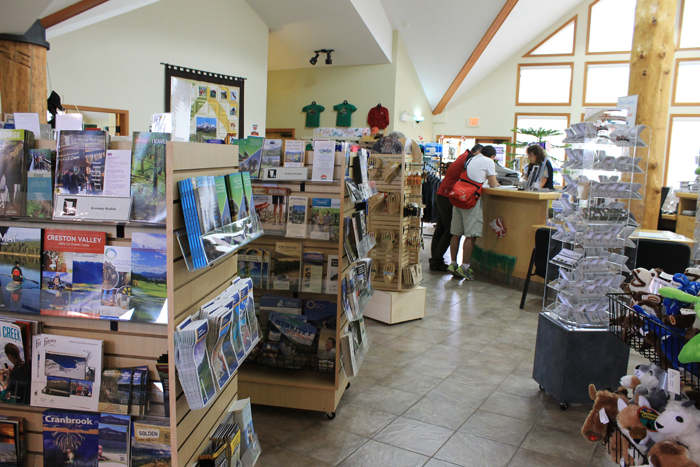 By: Korie Marshall
Visits to the Valemount Visitor Information Centre were up by 20 per cent in 2014 over the previous year.
The annual report from Adventure Management, operators of the Info Centre, was presented to Council on Jan 13th, showing an increase in numbers and revenues in all categories over 2013. The total number of visitors in 2014 was 21,490, up from 17,888 the year before.
The report says travel within BC has increased, and all visitor centres in the Thompson Okanagan Region and Northern BC saw an increase in visitors. But Valemount performed much better. And, though the number of busses visiting Northern BC dropped by over 30 per cent, the number of busses to Valemount actually increased by 72 per cent.
Visitors from Europe make up the largest group (30 per cent) followed by 25 per cent from Alberta and 20 from BC. Sixty-one per cent of the visitors did not stay overnight, but more than 54 per cent of the enquiries were about Valemount and Mount Robson.
"By providing excellent service and information on the local area in addition to other communities around the province, visitor information counsellors are able to create a positive first impression of Valemount and encourage longer stays and repeat visits," says the report.
Despite a longer season in 2013 (the centre was open over the winter), total revenues for 2014 (May 10 to October 13) were up by 47.5 per cent to $165,315. Most centres are experiencing a decline in accommodation booking, as the trend is for visitors to make their own bookings on cell phones and tablets. But Valemount's accommodation revenues have increased by 17.5 per cent, up to almost $17,000. And 46 per cent of the bookings were for Valemount, Tete Jaune and Mount Robson.
Activity revenues were also up a whopping 170 per cent to $60,694. Ninety-five per cent of the bookings were for local activities or the River Safari in Blue River. Retail sales of merchandise were also up 15 per cent to almost $84,000, and consignment sales were up 43 per cent to $3,852.
The report says the statistics and revenues show the Valemount Visitor Centre is fulfilling its role of improving the economic benefit of tourism in the area by promoting longer stays and return visits.
"Very good report, it was very good to see the increase in statistics over 2013," said Councillor Sandy Salt during the Council meeting. "I hope Tourism BC doesn't decide to shut them down."
"Minister Bond assured us that it was not being closed at Mount Robson," said Mayor Jeannette Townsend. "We'll see what happens here."
Shirley Bond, MLA for Prince George-Valemount told the Goat the Mount Robson centre would not be closing, but Destination BC has not ruled out changes. Destination BC is the province's crown corporation for tourism and was formerly called Tourism BC.
"Destination BC is consulting with local communities on how each of these facilities can better serve communities and the visitors to them," said Bond in an email response in December. "People travel very differently than they did even a decade ago and we want to make sure Visitor services of the future meet the needs of tourists. That is why Destination BC will work with local communities to better understand how we can reach out to visitors where they are, to provide the information they need, and in the format they need it in."
Adventure Management Ltd is two years into a three-year contract to run the Valemount Visitor Centre, which was open through the 2013-14 winter on a trial basis. Council voted in August not to continue running the Info Centre through the winter, but did agree to slightly extend the usual summer season by about a week and a half in to each of the shoulder seasons. Adventure Management also runs the Mount Robson centre on contract with the province.
According to Destination BC, tourism is BC's third largest employer with just over 132,000 people employed in tourism-related businesses in 2013. The tourism industry also contributed $7.3 billion in GDP in 2013, a 2.1% increase over 2012, and 2014 has been a "banner year".