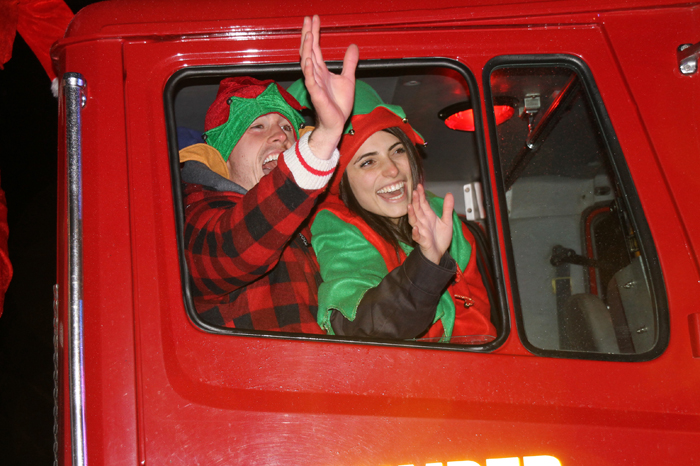 By: Chris Parker
McBride's Santa Claus Parade and late night shopping went off without a hitch last Friday night after being postponed due to a snow storm in late November. Santa told this reporter that he doesn't take his sleigh out from October until Christmas Eve to give the reindeer a chance to rest up for the big day. "Visiting every house and every country in the world really tires them out. So when I go to parades or make special visits I like to ride on Firetrucks or Police cars."
Santa arrived in style to the McBride Elks Hall much to the delight of the children in attendance. Being escorted by the Grizzlies Hockey Team, a police cruiser, two fire trucks and a horse drawn hay wagon filled with carolers Santa was quite a sight coming down main street.
This year instead of lining up to see Santa you signed in at the door and the kids got to go and make crafts at three different stations to wait for their turn to talk to Santa.
At the end of the night parents were smiling, the children were thrilled and Santa had once again stolen the show!
Elves preparing Santa's Gift list were Heather Zahn, Martina Wahl and Wendy Miskie.
More of Santa's Elves, Adaleena Mercuri and Mathue Miskie, rode in Santa's second favorite mode of transportation.
Children like Halle and Micah Reimer along with their mom Charisa decorated cookies while waiting for their turn to see Santa.