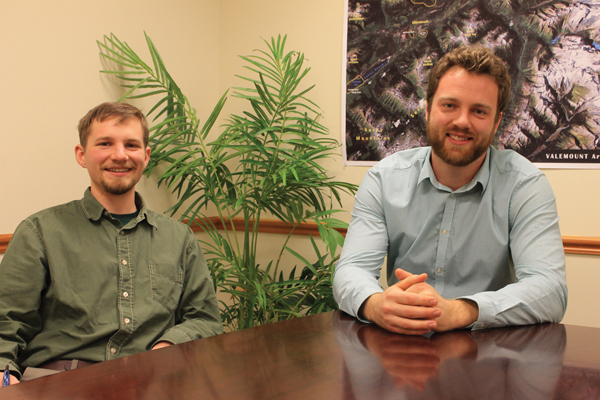 By: Korie Marshall
Cameron Bell has been with the Village of Valemount for about 6 months, on an internship from Northern Development Initiative Trust, but was recently offered a full time job on Haida Gwaii. Jordan Hammond joined Bell for his last few weeks in Valemount, and will be the Village's intern for the remaining six months of the program.
Bell left Valemount last week for his new job as Economic Development Officer for the Misty Isles Economic Development Society (MIEDS), a partnership of three towns and two regional district areas on Haida Gwaii.
"The job of an EDO is not to create jobs or businesses, but to help create conditions that allow business to flourish, and allow job creation," says Bell, "to make it easier for those jobs to be created."
Bell is looking forward to working on the recently launched Love Haida Gwaii, and he wishes he'd had more time working on Love Valemount. He says tourism marketing is a big part of what MIEDS does, and the communities are looking at starting a community forest, so much of what Bell has been involved with here in Valemount will help give him a base understanding for his new position.
But Bell says the biggest things he'll take away from his time here is working with the community.
"I've learned about the impact of having a very engaged and passionate population here in Valemount, and how that changes decision making," says Bell. "And I've learned how to run an election." Elections aren't the responsibility of an EDO, but Bell says it gave him experience working in a legislative framework, meeting deadlines and obligations, and has been really good project management experience.
Hammond also got to taste a bit of elections, and says he really enjoyed it.
"It was stressful at times, but a really good exercise in democracy," says Hammond, "and it was an interesting election."
Hammond is originally from Prince George, and graduated from UNBC in 2012 with a degree in outdoor recreation and tourism management with a focus on business and marketing. He's also lived in Fort Nelson, Whistler and Smithers, and has done an economic development internship with NDIT. Now he is excited to get to finish the coveted post that Bell got.
"When Cam told me he was going here, I thought 'You have Valemount? It's such a cool community!'" says Hammond.
"Yeah, I definitely scored on that one," says Bell.
"I think it's a really progressive community, a lot of potential opportunities on the horizon," says Hammond. "Valemount has been very active in pursuing them, so I think it is a really exciting time.
Hammond is especially looking forward to supporting the Village's review of the VGD proposal, and helping the Village develop an affordable housing strategy.
"If Valemount moves towards a bigger four-season tourism destination, it will be important to ensure residents have access to affordable housing," says Hammond.
Bell says local government work is always ongoing, and he was happy to be able to contribute, even though some of the things he's worked on weren't completed before he left. He says it would have been nice to see the Backyard Chickens bylaw passed, something he's done a lot of work on, but that has been a learning experience for him too.
"It has been challenging sometimes when you put a lot of work into certain projects, and Council may not be in support of the way that you propose it, or they may not be in support of the initiative at all," says Bell. But he says that is not just something within local government; that is just part of life. "You don't always get the return you are looking for. It's all part of the game."
Bell recently surprised some residents with his talent on the horn when he played "Last Post" at the Valemount Legion's Remembrance Day ceremonies. But other than also playing the didgeridoo, he says we've probably seen most of his other talents, like "riding my bike, playing the trumpet, throwing paperwork around," he says laughing.
"I've had a lot of fun here, it is a great place, and a great office to work in," says Bell. He says he'll be back for skiing, the one season he's missed so far.
Hammond has only been here for a few weeks, but he's been enjoying his time so far.
"I'm looking forward to getting involved in the community outside the office," he says. "It's been great to meet residents, and I'm looking forward to meeting many more people, and enjoying Valemount."