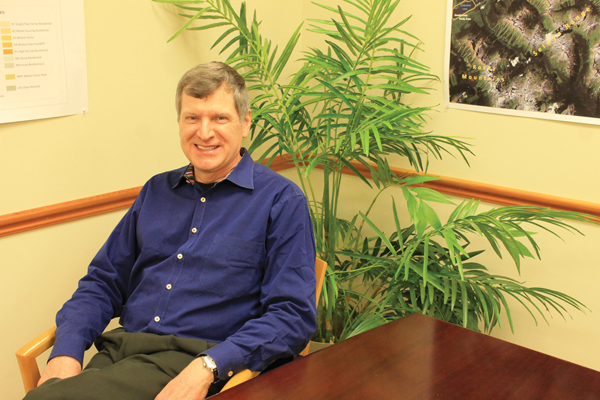 By: Korie Marshall
Andrew Young, Valemount's new Corporate Officer and Planner started at the Village on Nov. 12th.
Young is president of the Planning Institute of BC, and replaces Braden Hutchins who vacated the position in early September. The Planning Institute of BC is a professional association of planners in BC and the Yukon, and an affiliate of the Canadian Institute of Planners. Members work in both public and private sectors on different fields of planning, such as land use and development, municipal and regional planning, resource and environmental planning.
Young says he decided to come to Valemount from Vancouver for two main reasons, one personal and the other professional. The personal reason is that his wife, Marleen Morris, has been co-director of the Community Development Institute at UNBC in Prince George for over three years, and they have made many friends in the north.
He was looking around for an opportunity to be closer to her.
The professional reason is he's been working in planning for over 23 years, principally as a public servant in municipal government, and he's also been looking for opportunities such as Corporate Officer, as a way of expanding his horizons – "making full use of my background as a planner, but also learning more about the administrative side."
When he saw the advertisement for the position in Valemount, he did a lot of research on the community, and was pleased to be contacted for an interview and ultimately offered the job.
"I was thrilled, not only for professional reasons, but also because it brings me much closer to seeing my wife on a regular basis," says Young.
"I've discovered that after you've been living in one place for thirty-plus years, there are a lot of things you need to mentally let go of, and pick things that are really important." Young says he also had to think about the different things he would need in a northern community – for example he's recently purchased his first set of snow tires.
Because it was such a big move, Young spent some time visiting the village before accepting the position, including a day and an evening just hanging out in Valemount.
"People of course had no idea who I was, I was just a face on the street," says Young. "Universally I found that people were really warm and friendly." That and a long coffee discussion with Anne Yanciw, Valemount's Chief Administrative Officer, cinched the deal for him. He says Yanciw is highly regarded, and he also spoke with Hutchins, who gave good reviews of the community and the Village office.
Young says finding a place to rent was initially worrisome; he could only find one house and one apartment online, but he was fortunate to make some contacts, and had people emailing with offers of places he could view. He agrees that many municipalities, and certainly resort municipalities like Valemount, need to look at their rental and housing situation.
In his research about Valemount, Young discovered the potential destination ski resort, but there wasn't a lot of recent news about it, and he wondered what the status was.
"It was really only after I had further conversations with Village staff that I became tremendously excited that there is this real and growing opportunity that a destination ski resort might actually come together," said Young.
"The Corporate Officer position was certainly of interest to me, but the opportunity – and it's not a sure thing – to work on the development of a destination ski resort is really exciting."
Young says both he and his wife are not what you'd call warm weather people; they really enjoy the winter weather. He is looking forward to the opportunities to ski, and to learn how to properly cross-country ski, and keeping his fingers crossed that he'll make some contacts with people with sleds to he can try out Crystal Ridge.
"We have a number of significant planning challenges and opportunities in the near future, and this is a skill-set that is needed here," said Yanciw, in a press release announcing the posting. "We are delighted to have someone with Andrew's experience and expertise."
Young brings years of municipal planning experience, and has worked on some complex planning challenges such as the amalgamation of two municipalities into one.