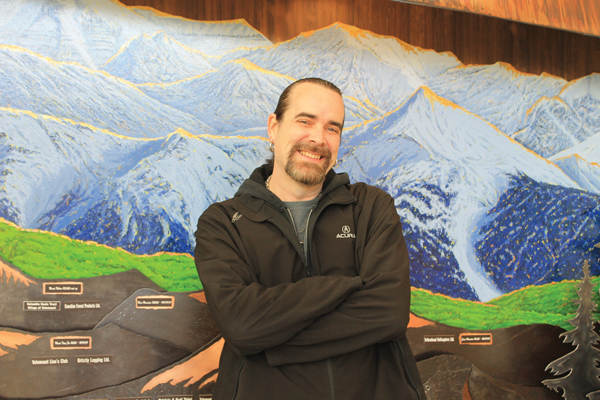 By: Korie Marshall
Daren Sparks has spent 20 years as a youth worker, often working with at-risk youth, but, being a music teacher, he's not new to recreational programming either. Sparks has jumped right in to his new role as coordinator for Valemount's youth programming, funded by Columbia Basin Trust.
In 2013, CBT offered a four-year grant at up to $25,000 per year as a pilot program under their Community Directed Youth Fund. The program focuses on increasing activities, services and opportunities for youth aged 12-19. Originally called Give Youth A Voice, the program in Valemount was originally coordinated by Dorthe Flauer with the funding administered by the Village, and the first year saw a number of activities organized, like an outdoor movie night, softball games, a Halloween event, and a cat-skiing trip. A news release from CBT earlier this year said Flauer had to step down due to other commitments, and the Valemount Learning Centre put in a proposal to take over of administration of the program, and was chosen by CBT this summer.
Sparks was hired in early November through a unique hiring process. Riette Kenkel, manager of the Valemount Learning Centre, says a youth hiring committee was established, with five youth aged between 13 and 17, all with different interests and backgrounds. With this group, she and Oversight Committee member for the program Judy Holmin came up with some criteria the kids felt was important. The final three candidates for the job were given 30 minutes with the youth hiring committee, and the committee members were then asked to rank them and give their reasons.
"Daren was every youth's first choice in the overall rankings, as well as when we totalled the scores on the criteria lists, so it was a clear choice," says Kenkel. "We then called Daren on speaker phone, and offered him the job. When he accepted the kids broke into spontaneous applause. It was by far the coolest interview process I've ever experienced."
Sparks is already engaging with youth through the high school and meeting with residents, getting ideas about what the youth want to do in the community, as well as throwing out some of his own ideas, to see if the kids are interested. One idea he's already hearing is that kids want something like a drop in centre, some spot they can call their own.
Another idea Sparks has is to get the youth to pick a new name for the program, maybe through a contest, and also come up with a logo.
"The kids have a voice already," says Sparks about the old name for the program. "I'm hoping we can come up with something more positive and proactive."
The program is a bit of a departure from Sparks' previous work with at-risk youth, mostly in Edmonton, but he says that can come in handy too.
"I've told the kids I've met already, if you are having problems, if there is something big happening that you need help with, you can talk to me, and we can work on it," says Sparks.