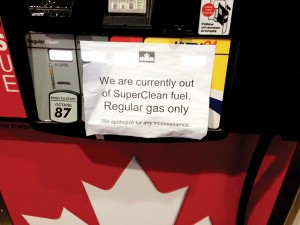 By: Korie Marshall
Layton Harris was heading back to his home in Kamloops after filling up his tank at the Petro Canada in Valemount. He figures he made it about 100 meters down the highway – just barely opposite the gas station, when he had to pull over.
"The car just died," he said.
Harris called the gas station, and they said they'd have a look at the car and arranged for a tow-truck to bring it to a local service station.
"It's got to be water or something in the gas, it was all foamy," he said as his car was being removed from the deck of the tow-truck. "My bumper is messed up now too, from getting it on the tow-truck; I'll be going after them for that too."
Just then he saw his exhaust system apparently getting pushed into the ground as the car was coming off the deck. After some expletives, he started listing off approximate costs for exhaust systems and both bumpers and whatever else might be wrong with the engine.
"I don't even want them to touch it now, I'm just going to tow it back to Kamloops," he said.
On Friday afternoon, staff at the Petro-Canada said that there would be no Ultra, no SuperClean gas (the two premium grades) and no diesel for at least three days, as the delivery driver the night before had put the wrong fuel into the underground tanks. The station was offering to have the tanks and engines flushed and fuel tanks refilled for anyone affected. By late Sunday evening, signs were still posted on the tanks saying the premium grades and diesel were unavailable.
Nicole Fisher, spokesperson for Suncor who owns the Petro-Canada chain, said they've been made aware of concerns at the Valemount Petro-Canada late last week.
"We take the quality of our products and fuels very seriously and are investigating the cause," says Fisher. "If a guest believes that their car was impacted please contact our Customer Service line at 1-800-668-0220."