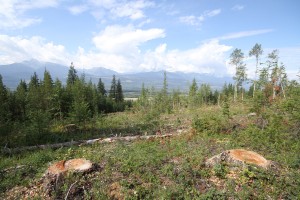 By: Korie Marshall
This past spring, the province started a review of converting volume-based wood licenses to area-based licenses, and the report is in. However Steve Thomson, Minister of Forests, Lands and Natural Resource Operations announced early this month the province won't be going ahead with the report's recommendations at this time – in part, because of the recent Supreme Court of Canada Tsilhqot'in decision.
The discussions between the Valemount and McBride Community Forests, Carrier Lumber and the ministry are also affected.
This summer, the Supreme Court of Canada ruled in favour of the Tsilhqot'in First Nation, affirming they have title to a 1,750-square-km area within their traditional territory. That means they have exclusive right to occupy that land, and the right to benefit from its resources. The decision has been called a game-changer in the legal landscape of BC and other parts of Canada where aboriginal title exists.
When asked if the decision was affecting talks with Carrier and the ministry, both Craig Pryor, manager of Valemount Community Forest, and Marc von der Gonna, manager of McBride Community Forest, responded that question was best directed to the ministry.
Greig Bethel, spokesperson for the ministry, confirmed it is considering all implications from the Tsilhqot'in decision in the discussions with the Community Forests and Carrier, just as they are for operational decisions.
In a news release, Thomson thanked Jim Snetsinger for the 35 recommendations covering economic, social, environmental, First Nations, and administrative issues surrounding the proposed conversion of some volume-based forest licenses to area-based licenses.
"His report stresses the need for strong First Nations and community support for any proposed expansion of area-based tenures in the province and says new proposals should incorporate measureable and verifiable public benefits," said Thomson. He says the recommendations provide a valuable roadmap on how to proceed, and will be considered as part of the ministry's ongoing work.
"However, given the recent Supreme Court of Canada Tsilhqot'in decision and requests from forest companies and communities to focus on key immediate priorities, the ministry will not be proceeding with legislative changes that would enable forest licence conversions in fall 2014 or spring 2015," said Thomson in the release.
A copy of Snetsinger's report is available online at: http://engage.gov.bc.ca/foresttenures.