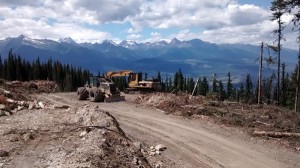 Thank you for making a Community Project come to life.If you have not yet had the chance, the Yellowhead Outdoor Recreation Association would like to encourage everyone to drive up the newly completed "Five Mile Road" which continues off of Hillside drive, to the top of the prominent knoll overlooking Valemount to the East. It was over 6 years ago that the Yellowhead Outdoor Recreation Association first started exploring the idea of improving the ancient and degrading road that services multiple recreational trails, including the trailhead for McKirdy Meadows alpine hike and cabin. Originally built for a single jeep to access an old forest fire lookout tower, the road saw increased use through the proceeding decades, and since 2008, YORA has been grooming the road in the winter as a community ski run.
Although the road was convenient and charming, it was steep, rough, narrow and only suited for 4 by 4 vehicles. Now thanks to funding by the CBT, and project management by the Valemount Community Forest in co-operation with YORA, the road is wide enough for two vehicles, much less steep, and has half as many switch-back corners. In dry conditions, any 2 wheel drive vehicle can now access the McKirdy Meadows trailhead, as well as the view point at the top of "Five Mile Hill". With annual grading, one can cruise up the road at over 40 kilometers per hour, reaching the top within minutes, only 6 kilometers from downtown Valemount. It is already truly a local gem.
YORA would like to take the time to publicly thank Shane Bressette, Craig Pryor and the Board of the Valemount Community Forest for partnering and guaranteeing that this project come to completion on budget and within modern guidelines for roadbuilding. Without VCFC expertise, the project would still be a dream. We would also like to thank the many local contractors who have worked on the project over the last 3 years. Your expertise and accommodations are much appreciated.
We hope that everyone enjoys the new road.
Board of the Yellowhead Outdoor Recreation Assoc.