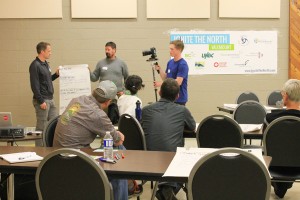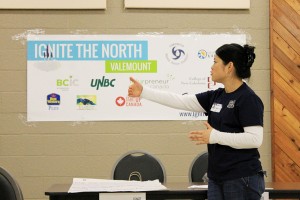 Ignite the North is an event traveling through 11 communities in northern B.C. this fall and it made a stop in Valemount and McBride last week.
The events are about encouraging innovation in the north and organizers hope to inspire the next generation of entrepreneurs. In Valemount, local entrepreneurs shared their insights, lessons, and choices on what it takes to run a successful business. The entrepreneurs were Michael Lewis of Three Ranges Brewing Co, Curtis Pawliuk of Frozen Pirate Snow Services and Laura Keil of the Rocky Mountain Goat News. That was followed by a town hall discussion on how to encourage more start-ups and engage youth. In McBride, the Ignite the North team led a workshop at the high school with 60 teens from Grades 8-12.
The initiative is sponsored by Omineca Beetle Action Coalition (OBAC), Village of Valemount, Best Western Plus Valemount Inn & Suites, UNBC, BCIC, Futurpreneur Canada, Startup Canada, Community Futures, College of New Caledonia, and Valemount Chamber of Commerce.