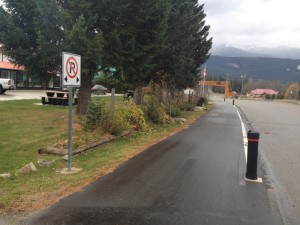 By: Korie Marshall
Valemount Council wants to give the parking lot on 5th Avenue for snowmobile trailers another shot this winter.
In the fall of 2013, Council approved a temporary permit to use one of the Village-owned properties on 5th Avenue as a parking lot for sledding trailers and trucks. The trial run was to see if the extra parking would help alleviate some of the congestion and visibility issues around the hotels near the highway entrance of the village.
The parking lot was not well used last year, but a staff report to Council at the Oct. 14th meeting said conversations with hotel owners in the vicinity indicated a low rate of staff training on directing clients to the parking lot. Two of the hotel owners told the Goat last year they have plenty of their own parking, and they did not receive the brochures from the Village about the additional parking. A receptionist at a third hotel said the brochures would have been more helpful if they had been individualized for each hotel, with a "you are here" mark. Management from a fourth hotel said their guests didn't want to use the Village's lot because it was too far away and they couldn't see their vehicle.
The report to Council says maintenance of the lot was not difficult or excessively time consuming last year, and new "No Parking" signs have been erected along the south side of 5th Avenue. Staff recommended an extension of the trial, with greater encouragement to hotel managers to train their staff to direct their clients to that parking area, as an alternative to parking illegally in 5th Avenue.
There will be a public hearing on issuing a temporary use permit for the parking lot on Oct. 28th, at 6:40, before another public hearing and the regular council meeting.