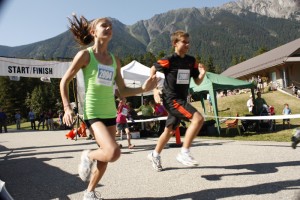 By: Laura Keil
The Mount Robson Marathon is an "out-and-back" run on the world famous Berg Lake Trail. The route passes through several different environmental zones and has its turn-around point on the shores of magnificent Berg Lake. The route is actually a little longer than a true marathon, which is 42.2km.
The race starts at the Mt. Robson Visitor Centre, then follows the paved road to the Berg Lake trailhead. It's a gradual climb along the Robson River through cedar rainforest to Kinney Lake picnic area. There is a short up and down and then flat along the shores of Kinney Lake. The half-marathon turns around at the gravel flats of the Robson River. The marathon runners continue on up a steep set of switchbacks to Whitehorn Campground. Following Whitehorn is the steepest and most difficult part of the run.
The full marathon has an elevation gain of 825m/2,700ft over the 21km to the turn-around point. The section from Whitehorn Campground to Emperor Falls Campground climbs steeply and almost continuously through the Valley of a Thousand Falls for about 5km, with an elevation gain of about 500m/1650ft.
Marathon coordinator Jean-Ann Berkenpas says this year they will have fewer age categories than in previous years. For the marathon and half-marathon, the two age categories are 19-39 years and 40+ for men and women's categories. For the 5km run there will also be a youth category (under 19 years). The kids fun run will take place again, and all runners will receive a prize for participating.
Every person who completes the marathon this year will receive a belt buckle. Those who place first, second and third in all categories will receive engraved glassware from Three Ranges Brewing Company.
If you still want to run and haven't signed up there's day-of registration for the 5km and half-marathon from 6:30-9am at the Mt. Robson info centre. Or you can register at the Valemount Info Centre on Friday from 6-9pm. Last-minute volunteers can phone Jean-Ann at 566-8460 and leave a message.
Berkenpas says there are tons of door prizes from Home Hardware, Caribou Grill, Running Room etc. that are $15-$100 in value – but you have to run to be eligible for a prize.
Following the race, Tourism Valemount is hosting a Volunteer and Racer Appreciation Dance from 7:30 – 10:30 at the Best Western on Saturday night. Volunteers, racers, friends and family are all invited to attend this free event. There will be live music by Charlee Staniforth and the Midnight Howlers, as well as appies from 8:30 -10:30.
The Berg Lake Trail is the most heavily used backcountry trail in the Canadian Rockies, with over 2,000 overnight users each year. There is no cell service anywhere along the trail.
Schedule of races Sept 6th
8:00 am = full marathon begins
9:30 am = half marathon begins
10:00 am = 5km run begins
11:00 am = kids' fun run begins
2:00 pm = awards ceremony