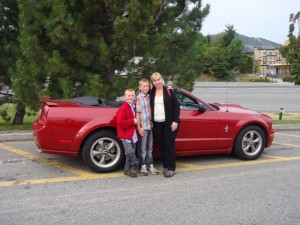 At first, when the guy on the other end of the phone told her she'd won a car, Jennifer Scheller thought it was a scam. Even after he explained he is from Crime Stoppers, and she checked the info he had against the tickets on her fridge, purchased at Valemountain Days this year, she still though it was a scam.
But when Marion Plummer called offering to pick up the car, saying she'd heard it on the radio in Kamloops, and another friend called saying she'd heard her name on the radio too, it started to sink in.
"My friends are saying 'you survived the fall in the river so you could win this car!' and my husband says I really should start buying lotto tickets," said Scheller. She purchased her tickets about a week before she had a brush with nearly drowning in the Robson River.
Lee Dodds, President of the Kamloops and District Crime Stoppers Society, says 10,906 tickets were sold in their 20th annual car raffle. They don't have a final figure available yet, but estimate the raffle raised about $26,000, which will go towards purchasing a car for next year's raffle and for paying tip rewards.
Scheller won a 2008 Ford Mustang GT convertible, which she picked up in Kamloops last week. She says it will be her summer car, but she just has to figure out where to store it for the winter.
Dodds says the winning ticket was drawn at the Frick and Frack Tap House in Kamloops on Saturday, Sept. 6th. He says the Crime Stoppers program provides a unique solution for people to help solve crimes committed in and around the North Thompson area and to help build safer communities, and he thanks the local volunteers. He says the society's key message is "You remain anonymous; criminals don't."