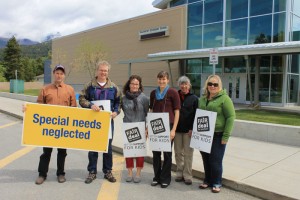 By: Korie Marshall
In public meetings last week in Valemount and McBride, local teachers explained their side of the labour dispute to parents and residents.
At the meeting in Valemount on Wednesday, Sept. 10th, Joel Zahn, who grew up here and has taught in Valemount, Dunster and now McBride, said that, in class, teachers recognize it is important to understand the root of conflict in order to overcome it and get the parties to agree. He said the intent of the Valemount-McBride Teachers Association in hosting these meetings was to explain the history of the conflict from the teachers' side, and to give parents an opportunity to ask questions about the situation directly to local teachers.
Zahn played a 3.5-minute video created in June by another BC teacher called "Why BC Teachers Are Angry (2014)" that quickly highlights the points of the teachers' side.
Zahn says in 1988, the teachers union agreed to give up a wage increase in favour of an agreement for better class size and composition. But in 2002, Christy Clark, who was then Minister of Education and Premier Gordon Campbell "ripped up" their contract and said teachers were no longer allowed to bargain about class size and composition.
In 2011, the Supreme Court of BC ruled it was unconstitutional for the government to strip that class size and composition language from their contract, and the government was given a year to remedy that situation. Zahn says instead of remedying the situation, the government introduced new legislation with virtually identical wording. So the teachers went back to court. One of the teachers present noted the union was paying for the court case with the teacher's union dues, while every one of us, including the teachers, also pay for the government's court fees, through our taxes.
Zahn says the teachers' contract ended in June 2013, so they've been without a contract for over a year, and have now been in negotiation with the employers association for 18 months. He also notes that the BC Public School Employers Association used to be led by elected members from the Board of Trustees. But in 2013, the government dismissed the Trustees and appointed Peter Cameron to lead the BCPSEA. Also in 2013, the Supreme Court again ruled in favour of the teachers, saying the stripped language had to be put back in the contract. Zahn explained the government got a stay on the ruling, which means they don't have to implement it while it is being appealed, and a decision is expected from Justice Griffin in October. He says the teachers know it can again be appealed to the Supreme Court of Canada, and are willing to let the case take its course in the courts, but the province is not.
Zahn explained that E80 is a clause in the employers offer, and one small phrase in the clause is the big problem for teachers – "supersedes all other agreements." He says if the teachers agreed to E80, the court ruling would have no effect, because they would be bargaining away a charter right. He says that is a precedent the teachers cannot allow to happen.
Zahn also played some video of a press conference with Premier Christy Clark and Minister of Education Peter Fassbender from the previous weekend, and pointed out some "misinformation" in the statements from Clark. One is that teachers are "demanding" a $5000 signing bonus. Zhan says a signing bonus is a typical bargaining topic that was in this case introduced by the employers association, and no teacher expects to receive a signing bonus. Another is that the two parties are so far apart on salaries. Zahn says they are only one per cent apart.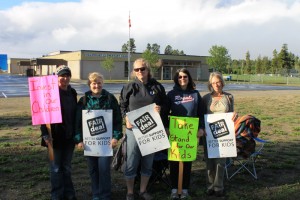 Kathy Udot was the first parent to speak after the presentation, and she says she supports the teachers – though she knows they are struggling to put food on their own table right now. She said she has concerns about her daughter's education, but she is doing what she can with online resources, and she supports the teachers in this struggle.
Allan Reale asked if the debate would be over when this agreement is finally completed, since it seems there has been strike after strike over the years. Teacher Brian Hanson says he's worked here for 25 years, and up to this strike action, there had only been about four days of strikes over those years. He and Zahn say this is the end battle of the government's decision 12 years ago.
Jen L'Arrive, President of the Valemount-McBride Teachers Association, said she can't say she would never strike again if this issue is resolved, because it depends on how it is resolved. She says she never thought she'd be an activist for public education when she started teaching, but this issue is too important to ignore.
Teachers Sue Prue and Karen Doughty, both from Valemount Elementary, say it is difficult to identify learning needs now, and that students who are two years behind their grade level don't even qualify for extra support.
Resident John Grogan, whose wife is a retired teacher, says this current action of the government in trying to get the teachers to bargain away their constitutional rights is showing contempt for the court, and the teachers agreed.
Zahn said if the government had agreed to remove E80 and go to binding arbitration, the teachers would already have been back in school.
Teachers present were willing to give parents advice about how to keep their children engaged in educations. Prue said get kids to read and write each day, or color and use scissors for younger children. The teachers also had lists of email addresses for politicians and School Board Trustees, and Prue suggested a child writing a letter may have even greater impact.
"Some people think we are still getting paid," said secondary school teacher Karrie Islemoe after the meeting in Valemount. L'Arrivee says the teachers received three days of strike pay in June, but are not receiving any money currently. She doesn't expect the money other unions are lending the teachers' union will go to strike pay, but it may go towards a hardship fund for members requiring financial assistance during the strike.
The teachers voted 99.4 per cent on Wednesday to end strike action if the government agreed.
Fassbender released a statement on Wednesday evening, saying that "binding arbitration would lead to unacceptable tax increases in this case." The government continues to say that binding arbitration is not an option, and the only solution is in negotiation.
The BCPSEA and the BC Teachers Federation continued to meet with mediator Vince Ready over the weekend, and a tentative deal was reached in the early morning hours of Tuesday, Sept. 16th. By press time, teachers were scheduled to vote on Wednesday, Sept. 17th, and if the deal is approved, teachers would likely be back in class by Monday, Sept. 22nd.