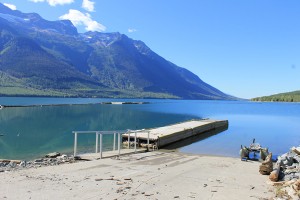 By: Korie Marshall
The East Canoe Forest Service Road is now closed until the bridge is built over Packsaddle Creek.
A permanent two-lane bridge is being installed to replace an existing under-sized culvert over the creek. Ministry of Forest, Lands and Natural Resource Operations spokesperson Greig Bethel says the closure is scheduled until Oct. 15th, though construction could finish sooner. Some equipment and rock was already on site in preparation for the project over the weekend.
The ministry says they have no plans to provide a temporary crossing, as that would increase the cost of the project. The timing of the closure was chosen to minimize impact on the public and take advantage of lower water levels and lack of snow and frost, a ministry spokesperson said. There is at least one driveway past Packsaddle Creek, The ministry said earlier this summer it contacted all private landowners in the area, and the property beyond the construction is generally rented out in the winter season, so won't be affected.
Access to a number of campsites and the Valemount Marina will be affected, but the camping and boating season is generally over by mid-September,. Marina Association members worked over the weekend to close up the marina site and move the mooring docks away from the shore.
The bridge at 10 km on the other side of the lake – West Canoe road – is also closed, due to a recent slide. The ministry says there are no plans to replace the structure, though they are working on a contract to have the site cleaned up, bridge removed, and damage assessed. According to district staff, a temporary crossing – culverts – will be installed when the site is cleaned up to accommodate a person living on the other side of the bridge.
Bethel says the ministry is also working with a few commercial parties who require access, to see how their needs can be met.