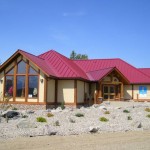 By: Korie Marshall
Valemount Council has axed winter operations of the Visitor Information Centre, but has voted to slightly extend the usual summer season into the shoulder seasons.
At its July 22 meeting Council deferred the decision on winter operations of the centre, hoping to get input from the committee that worked on the original contract. Adventure Management Ltd has a three-year contract to run the Visitor Centre, and ran throughout last winter on a trial basis. Council had the option to decide on continued winter service for the remaining two years of the contract.
A report from Adventure Management said that both visitor numbers and revenues were lower than anticipated throughout the winter, but higher than anticipated in both shoulder seasons – April to early May and into October. The original "summer season" for centre operations was May 10 to September 30. The report recommended that if winter operations were canceled, Council should consider extending the summer season.
A report to Council at the August 12 meeting said that schedules did not allow the original committee to meet, but some additional information was brought up, as well as a letter from Gord Peters, Valemount resident who has extensive prior experience in tourism marketing and visitor information center operations. Peters' letter strongly encouraged opening the centre from April to October.
Councillor Hollie Blanchette said in discussion that she'd like to see the centre open from April to October, but Councilors and Mayor Andru McCracken were concerned they hadn't heard any support for the centre from either the Chamber of Commerce or the business community. Councillor Christine Latimer said she knows her business gets benefit, but she doesn't know how much. Councillor Blanchette said there were really two conversations to be had, one now on the hours of operation and one later on the value of the centre.
Council again resolved to delay the decision to try to get feedback from the Chamber and local businesses, if Adventure Management would again delay a response, but a special meeting of Council was called on Friday morning, August 15. Councillor Latimer was not present, and in an unusual move, Council opened the subject up to public comment, although the only public present were also members of the media, but all local residents as well.
Council voted to extend the summer contract to May 1 to October 12, estimated to add less than $3000 to the contract for usual summer operations.