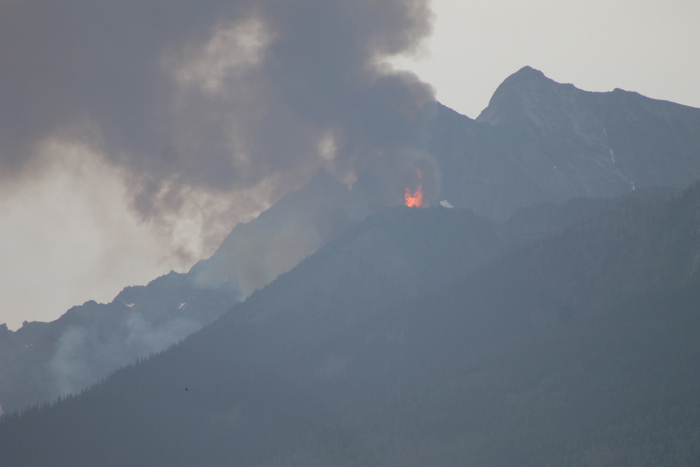 By: Korie Marshall
Smoke was again seen rising from Canoe Mountain on Monday, but it is not recorded as an active fire on the ministry's map of active wildfires. According to the Wildfire Management Branch's website, eight active fires continue to burn northwest of McBride, one near Moose Lake, three south of Valemount down the North Thompson Valley and at least five around Kinbasket Reservoir.
On August 6th, the Prince George Fire Centre issued a statement asking the public to refrain from entering areas where active wildfires are burning, after a safety incident the day before. Two public vehicles drove into an area where airtankers were about to drop retardant. Jill Kelsh, Fire Information Officer for the branch, says this creates more risk for the firefighters as well as the general public, as it creates a delay in fire suppression, and can require firefighters to put themselves in front of the fire.
Also last week the province announced more out-of-province personnel would be arriving in BC over the weekend to help fight wildfires throughout BC – 220 from Ontario and Quebec and about 80 specialized wildfire personnel from Australia.
One 19-person Incident Management Team, 40 sustained action firefighters and about 30 support staff from Ontario were scheduled to arrive in Kelowna on Aug. 8.
Forty sustained action firefighters and three support staff from Quebec were scheduled to arrive in Prince George on Saturday, Aug. 9, plus another 80 sustained action firefighters and about 10 more support staff from Ontario.
The personnel from Australia include two Type 1 Incident Management Teams (10 people each), incident commanders, fire behaviour specialists, aircraft co-ordinators and support staff. BC has not requested ground crews from Australia, says the ministry. These personnel will be deployed throughout the province, based on current and anticipated wildfire activity. They could remain in BC for up to five weeks.
The Australians' expertise will help maintain the branch's high success rate for containing new fires. They will also augment the response to existing fires by allowing BC to redeploy more experienced personnel to higher priority fires, and to take mandatory days off .
BC has fostered a mutually beneficial wildfire management relationship with Australia for over 15 years and has had a resource-sharing agreement in place with the State of Victoria for over a decade. This agreement allows for the exchange of personnel, knowledge, skills, equipment, technology and mutual support in the event of an emergency. The cost of bringing in the Australians will be covered by BC.
These personnel will join more than 1,600 provincial staff, 860 BC contractors and over 200 out-of-province personnel already actively engaged in fire suppression in British Columbia.
The branch says hot and dry weather conditions have elevated the fire danger rating throughout British Columbia and many areas of the province are currently experiencing a high to extreme fire danger rating. The hot and dry conditions are expected to last for at least the next two weeks.
The Wildfire Management Branch says it has responded to 1,036 wildfires so far this season, and most of those fires were caused by lightning. They serve as a reminder that as lightning activity within the province increases, extra caution is needed to prevent person-caused wildfires. Each person-caused fire diverts critical resources away from lightning-caused fires.
Campfire prohibitions are in effect in many areas of the province. For the latest information on current wildfire activity, burning restrictions, road closures and air quality advisories, visit: http://www.bcwildfire.ca