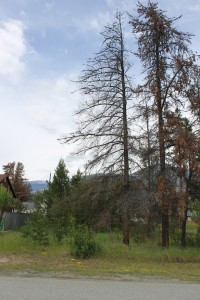 By: Korie Marshall
A large open pit and beetle-killed pine trees near the centre of Valemount are two hazards the Village hopes to address quickly. A new bylaw officer and a number of recent bylaw updates will help.
A report to Valemount Council at the June 22 meeting says that Dean Schneider, the Village's new Bylaw Enforcement Officer, has found hazardous conditions – a large open pit being used to dispose of debris and waste – on a property at 1234 3rd Avenue. The report from Carleena Shepherd, the Village's Bylaw Dispute Co-ordinator, says the property owner has been contacted, and was given a deadline for bylaw compliance, which has passed.
Another report says that adjoining properties at 1220-1234 7th Avenue contain several dead trees that present both falling and fire hazards to neighbours. That property owner has also been contacted, and a compliance date of August 14, 2013 passed with no results. Shepherd says that, at that time, the only recourse for the Village would have been through the courts. That could have been costly for the Village so it was decided not to try to continue with enforcement at that time.
The Village can now proceed with enforcement through the Bylaw Notice Enforcement and Dispute Adjudication System Bylaw, which was passed early last fall. Only bylaws that have been updated to fall under the provincial system can be enforced under it.
Under provincial regulations, the Enforcement and Adjudication bylaw allows the Village to use a provincial dispute adjudicator should someone want to dispute a notice they received about a bylaw infraction. The dispute adjudicator would consider the evidence in case of a dispute over a bylaw infraction and make a final judgment. This allows the Village to avoid the costs of going to court when trying to enforce a penalty.
Chief Administrative Officer Anne Yanciw notes that bylaw enforcement is still complaint driven – residents will still need to call the Village office with their complaints.
The system requires the municipality and staff record and maintain evidence of the infractions – the bylaw officer may need to take pictures for example – in case adjudication is required. If a property owner disagrees with a notice of infraction, there is a certain time period they can bring it to a screening officer (a designated member of staff) and then if necessary to a provincial adjudicator. A property owner can also choose to pay a lesser fine for the infraction, if they pay it early. In order to ensure proper recording and notification, the Village assigned the role of Bylaw Dispute Co-ordinator to Shepherd, along with her other duties at the office.
Council approved both recommendations from Shepherd, authorizing staff to notify the property owners they have until July 24th, 2014 to address the hazards indicated by Schneider. If action is not taken by then, staff is authorized to carry out remedial action at the expense of the property owner, subject to sections of the Community Charter.
Schneider, who is also the Village's Building and Fire Inspector, took on the additional tasks of Bylaw Enforcement Officer in April. The position had been empty since early 2012, when the previous contractor resigned, and the Village was unsuccessful in recruiting either a contractor or employee to do the job.
In a report to Council in May, Yanciw says Schneider will be working on bylaw services for 10 hours per week, focusing his efforts on gaining compliance through education. Schneider is not on call – he will not be knocking on your door at 2:00 am if you are playing your music loud – but his latest report to Council says he has been doing routine patrols within the village, ensuring residents are in compliance with Open Burning and Animal Control bylaws.