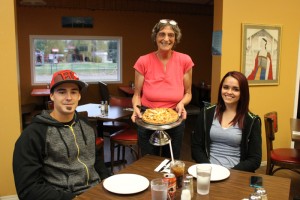 By: Korie Marshall
Sue Stremel, owner of Pepe's Pizza, has reopened the restaurant. Stremel's daughter Eliza says they'll be offering a smaller menu, and hope to get their original phone number back by the end of the month.
"After a couple of months away, Sue not only missed being in business," says Eliza, "she missed all her great Valemount friends and guests, and the travelers who stop in every year."
Left, Sue serving regualar guests Tyler Fowler and Felicia Pownall.