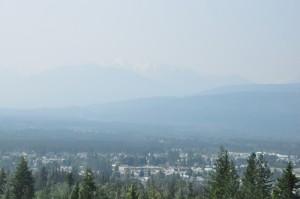 By: Korie Marshall
Left: Westridge is barely visible from the TV tower on 5-Mile July 13th as smoke from multiple fires blows into the valley. The Prince George Fire Centre banned open fires July 11 until further notice. Camp fires that are a half meter high by half meter wide are still allowed. To report a fire call *5555 on your cell phone.
The heat wave gripping much of B.C. will continue for at least the next several days, Northern Health's Medical Health Officer Dr. William Osei said in a media conference July 14.
"We want to remind residents that life will go on as usual…and that all the health risks are totally preventable."
He urged residents to know their limits: recognize when your body is becoming overheated and seek cool relief when it is. But that doesn't mean residents need to lock themselves in air-conditioned rooms, Dr. Osei said. A fan blowing hot air around a room might not be enough relief, Dr. Osei said, suggesting residents use wet towels on their foreheads and skin if they are without air-conditioning.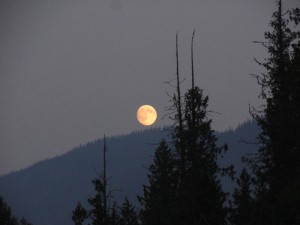 A supermoon and smoky conditions in the valley made for a dramatic moonrise photo, snapped July 10th. At press time there were 16 active fires and eight fires of note the Prince George Fire Centre were responding to. The closest fire of note to the valley, about 60 km southeast of Tumbler Ridge, has been burning since July 6 and is now 35% contained, according to the Prince George Fire Centre. "The fire danger rating is currently "high" to "extreme" throughout the entire Prince George Fire Centre," a press release issued July 14 said.