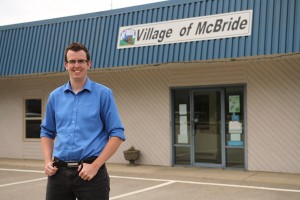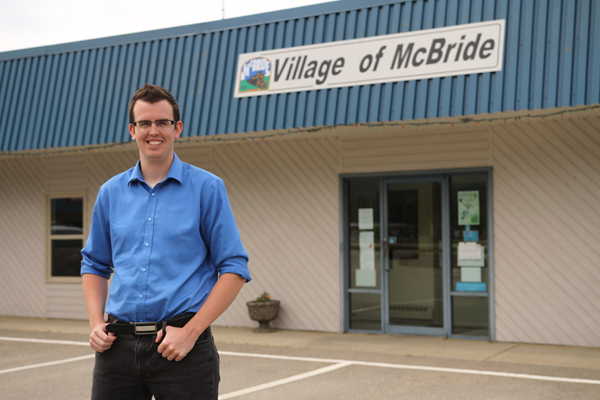 By: Korie Marshall
Difficulties finding and retaining part-time employees, challenges qualifying for financing, and a shrinking customer base are some of the issues McBride's new Economic Development Officer hopes address to help local businesses.
The issues are some common themes heard on McBride's first Business Walk, late last month. Village Council and Chamber of Commerce members joined Geoffrey Roy, McBride's new EDO and representatives from the Ministry of Jobs, Tourism and Skills Training on June 24 for walk around the village's business sector. In pairs, they knocked on business's doors, to ask three simple questions: How is your business doing? What is the greatest challenge you face today? And what can be done to help your business thrive?
Roy says they reached 36 businesses, most on that first day, and they found that almost 80 per cent of them felt their business was either steady or increasing, so that is a good sign. But there are some common themes in challenges facing businesses, and not just the expected difficulty of maintaining a customer base with a shrinking population.
Top of the list of challenges is a difficulty finding and retaining part-time workers.
"There are a lot of companies out there that have the capacity to expand and hire more," says Roy, "but they are having trouble finding employees." Often people who fill part-time positions are part of a family and aren't the sole wage earners. "Those job positions aren't the type that draws people to town, so we have to have people in town already to fill them." Roy says full-time positions are easier to fill, because people will move for them.
"It's a challenge for growing businesses, because they need the help, but may not have enough work for a full-time employee," says Roy.
Another challenge is qualifying for financing. Roy says apparently McBride is flagged as a "depressed" area, and he's started talking with different banks and credit unions to try to get a better understanding of where their issues with lending to local businesses are.
Another theme Roy found is that businesses are excited about the idea of developing better signage and showcasing the town to highway traffic. They want to make McBride more appealing to tourists, and develop a year-round tourism sector. Right now, snowmobiling is a big draw in the winter for restaurants and accommodations as well as other businesses, but there isn't a big draw in the summer. Roy didn't hear any direct feedback about developing the bike trail system, but he agrees that is a viable option for developing summer tourism.
Other challenges Roy noted are the perception that residents and businesses are not shopping locally, and a lack of local and regional awareness of existing businesses. A draft of Roy's report to Council says the Village will pursue opportunities to promote and market local businesses, and will explore the prospect of developing a Buy-Local campaign.
Roy also plans to work one-on-one with some businesses to try to find solutions for specific issues they are having.
Roy grew up in Prince George and graduated from UNBC before working with the Village of Burns Lake. He now has a one-year contract with the Village of McBride, partly funded by the Economic Development Program from Northern Development Initiative Trust. His term started this spring, and he says he has appreciated how welcoming McBride residents have been, though he was disappointed to have missed the Pioneer Days festivities.
"I think I am in a position to make a difference in the community, and I'm always excited about that. It's a really unique opportunity," says Roy. "It's positive for business owners to know that we are engaged, and that we want to do better for them."