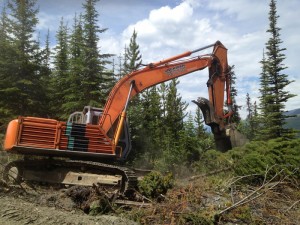 By: Korie Marshall
Jackman Construction is getting started on construction up 5 Mile Road, under contract with Valemount Community Forest.
The work to create a more permanent road is partly funded by Columbia Basin Trust Community Initiatives fund, which Yellowhead Outdoor Recreation Association applied for, to help develop both the mountain bike park and other recreational opportunities on 5 Mile Hill, such as a toboggan hill and hiking trail access.
YORA member Andreas Thoni, who spearheaded the mountain bike park project, says the additional funding from CBT allows the community forest to do work beyond what it would normally do for a logging road, like installing some extra parking lots.