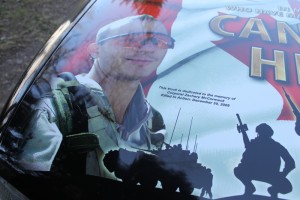 By: Korie Marshall
The father of a fallen soldier, on a trip with his son's truck, stopped in Valemount on Sunday to visit Joan Nordli, a family friend.
Cpl. Zach McCormack and three other Canadian soldiers were killed in Afghanistan on December 10, 2009. Zach's father Robin has had Zach's truck, a 2002 GMC Sonoma, covered in a personalized memorial wrap, one of 11 across Canada, with the help of Canadian Heroes. Now, just after returning from the National Day of Memory ceremonies in Ottawa, Robin is using his vacation time to bring the truck to Vancouver from his home in Edmonton, to show it to the mother of one of the other soldiers killed with Zach. He says he posted on the web to ask if anyone else wanted to see the truck, and was amazed to receive 103 requests in 24 hours. He now has about 14 stops planned in eight days.
Robin says he wants kids to grow up with a connection to the military, something he himself didn't have as a child, but his son did. Robin says as a child, Zach always wanted to be an "army guy."
"He became a soldier in Afghanistan," says Robin. He says he wants to make sure that the sacrifice of soldiers, those injured or killed as well as those who come home safe, is never forgotten. "The military is too important to our freedom."
Robin is not raising money on this trip; he is spending his own money and vacation time, but he will be running in the Loops for Troops on June 1 in Edmonton, and he hopes to raise $10,000 which will go to the Military Family Resource Centre in Edmonton.
You can follow his trip through BC at www.canadianheroes.com