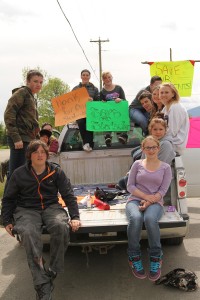 Photo: Laura Keil
Caption: Matthew Wheeler
A dozen McBride secondary students from grades 8 to 12 protested near the school June 5, saying they are being caught between the teachers strike and government lockout.
"We're tired of being a ping pong ball caught up in the game, said student Molly Mortensen, holding a hand-made poster "Honk for students". It affected her as a member of the senior drama class. She said one of three public performances of their production, "Looking Glass Land", a takeoff on "Alice Through the Looking Glass", was cancelled on Tuesday because of the rotating strike and lockout. The disruption also reduces time to prepare for exams, she said.