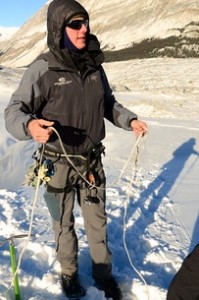 By Bob Covey, Special to the Goat
McBride-native Jesse Milner passed his apprentice ski guide exam this spring, taking him one step closer to being a certified Canadian Mountain Guide.
Jasper's Barb Sharp, Mat Charet, Jesse Milner and Max Darrah each completed their respective Association of Canadian Mountain Guides (ACMG) certifications recently, marking a significant nod to local ski programming, mentoring, industry and terrain.
"We have talented mountain athletes across the board here," said Darrah, who on May 12th officially learned that he would be joining the likes of Jasper mountain guides Peter Amann, Steve Blake, Rupert Wedgwood and Matt Reynolds.
"This is not a golf course or ski resort community. People here have chosen to live here because of the mountains."
Milner, who grew up near McBride but who has skied all over Jasper National Park en route to passing his apprentice ski guide exam this spring, echoed those sentiments.
"It definitely reflects on the community," he said. "I know I wouldn't have got here if not for the people that I had the opportunity to learn from."
The ACMG's mountain program has three disciplines: alpine guide, ski guide and rock guide. While Darrah has now completed all three components of the program, becoming a fully-certified mountain guide, Milner, Sharp and Charet continue to work on the ski guide discipline.
Their apprentice ski guide exams behind them, they can now concentrate on going after their full ski certification.
"Over the next three years I'll be trying to find a variety of work experience, planning some trips and hopefully challenging the ski exam," Sharp said.
That all four skiers made the cut may not be a co-incidence. For the past six winters, Sharp and Darrah have worked closely together through Parks Canada's visitor safety program; Charet and Sharp bagged peaks all winter together during their season in Revelstoke; and Milner, Darrah and Sharp are good friends who not only ski together during days off, but come together in a variety of ski-related work opportunities, including jobs at Cariboo Cat Skiing and Rockaboo Mountain Adventures.
"I think we're all really supportive of each other," Sharp said.
Adding to that encouragement was Milner's receipt of a special scholarship to help pay for his exam. The Claire Dixon and Cornelius Brenninkmeyer Award is given to the ACMG's top ski guide candidate. The first year it was given out, it was Darrah who was judged to be most deserving.
And now Jasper can be proud that its ski community is a little more connected to the internationally-recognized ACMG. After all, it takes a community to raise a ski guide.
"This was a big send for Jasper," Darrah said. "A lot of people have been a big part of these successful hoop jumps."