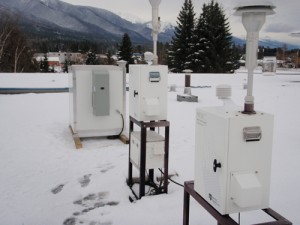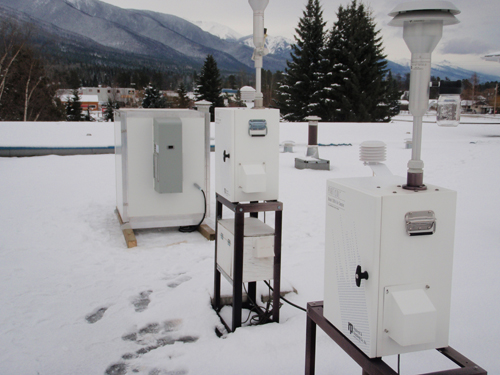 By: Korie Marshall
After some technical problems over the winter and a couple of attempts at repairs, the air quality monitor on top of the Valemount Fire Station is working again.
Technicians from the BC Ministry of Environment were in Valemount in mid-March to repair communication issues with the monitor, but the issues persisted. Dean Fudge, air pollution meteorologist with the ministry, says there were both communication issues between the main system in Victoria and the monitor's datalogger, as well as an unstable power supply, and both were repaired by the ministry's technical staff.
Fudge says there have been a few occasions over the past few weeks where communication was lost, but it was fixed quickly and the data was recovered. The Air Quality Index is currently reporting to the widget on the Goat's website.
Valemount is the only air quality monitoring station between Prince George and Kamloops. The continuous monitor, installed in 2012 by the Ministry at a cost of $10,000, replaced a non-continuous monitor that only gave anecdotal information about the air quality in the region.
The new monitor measures PM10, or particulate matter around 10 micrometers in size, which can penetrate the deepest part of the lungs, causing or exacerbating a variety of respiratory and other health problems. PM10 can come from smoke, dust, motor vehicle exhaust and industrial sources. The World Health Organization targets are a maximum of three days a year with up to 150 micrograms of PM10 per cubic metre and 70 micrograms per cubic metre for long-term exposures to PM10.