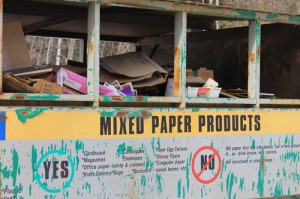 While many Prince George residents will have blue box recycling service at their driveways starting in September, the rest of Fraser-Fort George, including McBride and Valemount, may lose their recycling bins for paper, cardboard, milk jugs and tin cans – as early as the end of May.
Some other municipalities and all residents living outside municipalities in the regional district did not accept offers for recycling services last fall from Multi Material BC. Those who voted against the MMBC proposal cited high penalties, impractical expectations and too many uncertainties in the contracts offered. MMBC is a non-profit, industry-led and industry-financed association created to manage the stewardship plan for packaging and printed paper, as required under the new provincial recycling regulations.
"There is no way we'll be able to provide service across the province in our first year, and I don't think we ever thought we would," Allen Langdon, managing director of MMBC, told the Goat last month. "I think the goal was to establish a base line of service in the first year, and then look to expand that in year two."
Langdon said MMBC communities that declined their offers were included in public requests for proposals to offer recycling services, but they were not able to award contracts in all areas.
At their April meeting, the Regional District Board considered whether to continue the current recycling contract with Cascades Recovery which operates the Transfer Stations in Valemount and McBride. Three options were considered: option #1) ceasing recycling collection throughout the region on May 19; option #2) continuing to provide drop depot services until September when Prince George's curbside collection begins; and option #3) continuing to provide drop depot services throughout the region until next May, when the contract could be reviewed again. But the Board decided to ask for another report from staff and reconsider the matter at the next regular meeting May 15th.
When asked last week which option they were intending to support, the four directors from Prince George and one rural director responded that they were undecided. Seven rural directors were in favor of some form of recycling continuing in the district, but many were concerned about the cost. Two rural directors did not respond to our request.
Terry Burges, Area G director and chair of the Environment and Parks Standing Committee, says he is currently in favor of continuing and possibly expanding the service. He says they could expand service in the district by taking the drop depot bins no longer required in the city and placing them in areas throughout the district that don't yet have them, like Willow River, Hixon and Mcleod Lake.
But Burgess is concerned the weighted votes of the city councillors will mean the board votes against continuing recycling outside of the city. The weighted vote can only be used on money issues, and goes by population, so MacKenzie and Area D have two votes each, the city directors get a total of 18 votes, and the rest of the board gets one vote each. He says if the city voted one way and the rural directors voted another it would be 18 to 12 in favor of the city.
Prince George Director Murry Krause and the three other directors from the city say they have not made a decision yet. Cameron Stolz says he's waiting to decide, as staff is doing more work around "MMBC's lack of commitment to providing recycling to rural BC."
Shari Green, Mayor of Prince George and regional district director, says MMBC should be providing recycling services to communities. She says the rejection by most local governments to this "poorly conceived program" and MMBC's "picking-and-choosing of have- and have-not recycling communities around the province" amount to financial downloading for the Regional Districts. "That I will not support," says Green.
Dave Wilbur, fourth director for the city, says "Maybe more time will enable us to get past the clear abdication of responsibility for stewardship of recycling by our province and MMBC, but I doubt it."
Art Kaehn, Director for Area C, said it was premature to say which choice he would go with, as there might be different options presented at the next meeting. Area F's Kevin Dunphy said none of the options were good, but he is looking at the third option of continuing recycling until next year, because his constituents support it and "Cascades has given us a very reasonable offer."
Ken Starchuk of Area H says he is in favor of extending the contract with Cascades into next year, as he hopes that will give the district time to assess other options, and to put further pressure on the provincial government to improve the services offered to rural communities like Valemount, McBride and Mackenzie.
Laura Beckett of Area C is waiting to see the next report before deciding. She says she wants to see rural recycling continue in some form, but is concerned about the cost.
"Even if the market is good for recyclables, it still means subsidization to some degree," says Beckett. "Is it reasonable for the service people want? Or is it too expensive to ask of tax payers?"
Warren Wilson of Area A says he's also waiting to decide, and he's hoping for some developments from the North Central Local Government Association conference, but he says that appears unlikely.
"As it stands I believe this is a no win situation for the rural population," says Wilson. "I think we have a moral duty to continue the recycling but is it right to expect rural residents to pay the costs at both ends?"
Andru McCracken, Mayor of Valemount, says "We're in a pickle," because the communities don't know what the cost would be, even if they could still accept the original offers from MMBC. For example he says the contracts for drop depot services offered could mean the depot is 60 kilometers away from a community, and the community would have to pay those transportation costs. He says he stands by staff's recommendation not to accept the contracts offered by MMBC, but he feels it was never made clear what would happen to small communities and rural areas if they and their regional district turned down MMBC's offers. He knows many residents in his community are in support of expanding recycling.
In a letter to Minister of the Environment Mary Polak, McCracken says the program appears to be designed for large municipalities of at least 100,000 residents, while over half the municipalities in BC have a population of less than 5,000. He asks the minister to ensure environmental initiatives are designed to encourage and allow participation by small communities, rather than restricting them to large municipalities.
McCracken says staff at the Village and at the Regional District is working hard to try to come up with other options with MMBC.
The Regional District Board's agenda with a new report is expected to be released on the district's website on May 9th. The next board meeting is scheduled for May 15th. It is not televised but is open to the public.
By: Korie Marshall